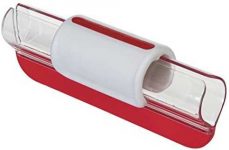 Progressive International Zip Slicer, A, Red

Price:

$12.71




From the manufacturer
Thoughtful Innovation for Every Cook
We create kitchen storage solutions and cooking tools to contribute to a healthier lifestyle while ensuring those solutions are budget friendly. Enjoy cooking from scratch with products that encourage using fresh ingredients, trying new recipes and entertaining friends and family.
Progressive International boasts over 40 years of thoughtfully innovating kitchen products essential to the everyday cook. What began as a small family of housewares products has grown into a collection of unique gadgets and tools dedicated to food preparation and storage.
As the kitchen is the heart of the home, our customers remain at the heart of what we do as an organization. At Progressive, our team is continually developing products intended to exceed the quality expectations of our customers.
Prep Solutions
Our Prep Solutions collection features innovative gadgets that will fit any lifestyle and budget at a great value.
SnapLock by Progressive
Our line of easy-to-open, leak-proof containers with unique hinged snap-off lids for all your family's food storage needs.
Prepworks
Our Prepworks products are about convenience and control of everyday meal preparation for the busy home cook.
Slice cherry tomatoes or grapes with a quick swipe
Ergonomic design is comfortable to hold and slicing blade is concealed while in use
Easy to use; fill and slice
Ideal for snacks, salads and pasta
Made of stainless steel and plastic; dishwasher safe
baby gadgets,#Progressive #International #Zip #Slicer #Red