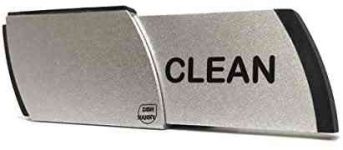 Premium Metal Dishwasher Magnet Clean Dirty Sign | Contemporary Stainless Indicator – Kitchen Gadgets for All Dishwashers, Home or Office Organiz

Price: $29.99 - $19.95


Contemporary Design Magnet That Looks Great On Your High End Dishwasher, Or Any Dishwasher – FROM THE DISH NANNY PRODUCT LINE THAT ALL YOUR FRIENDS HAVE
Are you always telling your husband, wife, or kids that the dishes are clean or dirty? Do you need help with the chores?
Are you ready for your Office Workers to place DIRTY Cups away?
Love your dishwasher's look and looking for a sign that is not cheap, ugly or too big?
Simple, useful, and designer look – Made from Quality & STURDY Aluminum
Your clean or dirty dishwasher sign with scratch free magnets will stick to any magnetic dishwasher
Soft Silica Covered Magnets Protects & WON'T SCRATCH your Appliances
Attaches to ALL Dishwashers DOORS, Magnetic & Adhesive Options Included
Your sign is a Kitchen Design that goes with Stainless Steel, White, Black Appliances
Not too big and not too small 5″ x 1.5″ inches.Dishes Sign is DISCREET & EFFECTIVE
This dishwasher indicator is perfect for any kitchen or office
It is a simple way to let you and your family or co-workers know if the dishes are clean and ready to be put away or if they are dirty and need a run in the wash cycle
Put a stop to the question, "are your dishes dirty or clean?"
Your dad, mom, sister, brother, or anyone will love this gift idea. It comes in a gift box that is easy to wrap
WHAT IS IN YOUR DISHWASHER? Your dishwasher magnet will tell you. This is a high quality, magnetic metal sign that won't rust or stain with very strong magnets that are covered with scratch proof pads. Clean, sophisticated, attractive and functional sign to solve your dirty and clean dishwasher problems.
STAYS IN PLACE with the strong industrial magnets and no scratch pads on the back, this sign will not move around your dish washer (however, some stainless steel dishwashers have nickel and aluminum in them and thus are not magnetic, so we include as an alternative two strong 3M tabs to attach your sign)
PERFECT TENSION The slide indicator gives you a smooth touch only when you move it and not just when you brush up against it in the kitchen. Funny accessories like this are great in home, or for business organization in the office
EASY TO READ No more confusion while reading this sign in any lighting. Your sign is neither big and bulky nor so small you have to squint, perfect for organizing all kitchens. It is the perfect gift idea for Bridal Showers, Teens, Husband, Wife, Dad, Mom, and Christmas. Comes in a small gift box
Great gift ideas for anyone
home gadgets,#Premium #Metal #Dishwasher #Magnet #Clean #Dirty #Sign #Contemporary #Stainless #Indicator #Kitchen #Gadgets #Dishwashers #Home #Office #Organiz