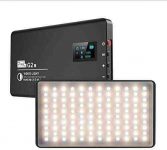 Pixel Ultra-Slim Bi-Color LED Camera Light, Built-in Rechargeable 4000mAh Battery LED Panel Light, 3200K-5600K Portable Led Light Panel, LED Video Light for Camera, Camera Lighting for Photography

Price:

$54.99




Product Description
The Pixel G2c panel light is a an ultra-slim LED panel designed for the photographers and videographers who need their lighting be suitable for any shooting condition. With a lightweight and compact design, the panel takes up little space in your gear bag and can light up your creativity. The panel can also be functioned as a power bank, using the supplied USB Type-c to USB adapter to charge your phone, camera or any USB chargeable device.
KEY FEATURES

1/4″ 20 Compatible
Using the 1/4″ 20 thread on the base and the side, easily mount your LED camera light to any camera, tripod or camera rig.
Adjustable Color Temperture
The bi-color LED ranges from 3200K(warm orange light) to 5600K(cool white light) light in 100 Kelvin increments.
Pocket-Sized & Aluminum Housing
5.2 x 3.0 x 0.4 inch and weighing in at 0.4lbs/180g, the ultra-slim LED panel light is a perfect on-the-go lighting tool. And a high-grade aluminum housing provides durability and dispersion of heat.
OLED Controls
An intuitive OLED on the rear displays color temperature, brightness and battery info, and also confirms the estimated run time after every change in brightness.
The Ultimate On-Camera Accessory for Creators

APPLICATIONS

Outdoor Photography
Lightweight, powerful and durable, representing the perfect combination of size and power, the G2c LED panel light is an ideal accessory for outdoor photography when trip weight is your cheif concern.
Studio Photography
Every great work starts with one thing: professional-quality lighting. The panel produces a outstanding light output with no hot spots, smooth edges and a powful push, making it a must-have on-camera accessory on the market.
Broadcasting
Adjustable color temperature and dimming brightness can meet the different requirements when you record vlogs or live-stream. The panel will make your subject to appear naturally lit in any environmnet.
PREMIUM LED – The LED camera light adopts 120pcs(bi-color) high quality LED beads with a high CRI of 95+ for accurate color rendering, 3200k to 5600k adjustable color temperature(in 100k unit increments), 1% to 100% dimming in increment of 5%, brightness up to 1021 lux measured at 1.6 feet.
RECHARGEABLE & POWER BANK – With a 4000mAh build-in battery, the led light panel is rechargeable via a supplied USB Type-c charging cables. At 100% brightness, it runs for about 90 minutes, at 50% for 300 minutes. Using a supplied USB Type-c to USB adapter, you can charge your phone as you would with a USB power bank.
POCKET-SIZED – The LED panel light measures 5.2 inches long, 3 inches wide and 0.4 inches slim, weighs about 0.4lbs/180g. Because of its lightweight and compact design, it can just as comfortably be used with a phone as with a traditional camera for photo and video applications.
INTUITIVE LCD DISPLAY – An intelligent LCD on the rear of the light for camera displays various parameters, such as the color temperature and brightness level, recalculates runtime with every change in brightness, and also keeps the last settings when turn off.
DURABLE & FLEXIBLE – The LED video light has an aluminum housing and a built-in frosted lens layer for diffusion. It also features a 1/4″-20 mounting thread on the bottom and the side. A 1/4″-20 shoe mount adapter is included for attaching the light directly to your DSLR camera, tripod or light stand.
camera,#Pixel #UltraSlim #BiColor #LED #Camera #Light #Builtin #Rechargeable #4000mAh #Battery #LED #Panel #Light #3200K5600K #Portable #Led #Light #Panel #LED #Video #Light #Camera #Camera #Lighting #Photography