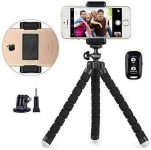 Phone tripod, UBeesize Portable and Adjustable Camera Stand Holder with Wireless Remote and Universal Clip, Compatible with iPhone, Android Phone, Sports Camera GoPro【2018 NEW VERSION】

Price: $19.98 - $17.98


Product Description
UBeesize Tripod Pro

Vloggers and Photographers Behold
Discover the portable and easy-to-use tripod with signature flexible legs for content creators!
UBeesize Tripod Pro

Elevate Your Creativity
Simple, smart and secure.
Works as a stable tripod or handgrip for streaming, 360 video and selfies.
UBeesize Tripod Pro

A Starter Kit for Next-generation Influencers
Use it as a tripod in your home studio. It makes creating quality content easy for online channels.
1
Wrap it
2
Grab it
3
Stand it
Supporting Both Landscape and Vertical Orientation
All you need is your phone to create horizontal contents for YouTube and vertical for your Instagram Stories and TikTok videos.
Selfie and Group Photos Made Possible
You don't need an assistant anymore when you have UBeesize Tripod Pro. The set includes a Bluetooth Phone Camera Remote with a range up to 30 feet.
UBeesize Mini Tripod Pro is the ideal tool for traveling and creating amazing content on the go.
Pack light and start to tell your own stories today!
2019 Upgraded: This cell phone tripod is upgraded in 2019 with stronger material for peerless durability, the defect rate is down more than 80% from this year. And your purchase is guaranteed by UBeesize lifetime service.
Get The Perfect Angle – Adjustable OCTOPUS style legs help to capture clean shots from any angle even in the move. Want a view difficult to get with common tripod? This is your best choice!
Stable On Any Surface – Made of very strong durable foam and plastic, the ball head and no-slip feet make positioning and straightening devices easy
Universal Compatibility – Works well with smartphones, digital cameras, GoPro and webcams up to 3.7 inches wide
Control it from distance – The wireless remote serves a wireless range up to 30 ft. Ideal for taking individual, group photos & wide angle views.
camera stand,#Phone #tripod #UBeesize #Portable #Adjustable #Camera #Stand #Holder #Wireless #Remote #Universal #Clip #Compatible #iPhone #Android #Phone #Sports #Camera #GoPro2018 #VERSION