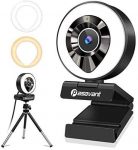 Pasavant 1080P Webcam with Dual Microphone, Two-color Ring Light and Tripod, HD Streaming Webcam USB Plug and Play Web Camera for PC Desktop Laptop MAC, Video conference, Online course, YouTube, Skype

Price: $39.99 - $32.99


Product Description
USB 2.0 / 3.0 Plug & Play Web camera
Easy to use, just plug it into the USB port on your laptop / desktop / PC to install automatically. Using the latest USB 2.0 / 3.0 technology can significantly increase transfer speeds.
Streaming Full HD Webcam
The Full HD 1080P webcam has ring lights in two color modes and can upload and output the YUV format. In this way, better lighting effects, higher image quality and smoother videos can be achieved.
Multifunctional Webcam
This is a universal webcam. Excellent lighting effects are very suitable for live PC broadcasts. 90-degree wide-angle and double microphones are suitable for video conferencing. Full HD 1080P is suitable for online courses.
Webcam with Tripod
The free smart tripod has a metal ball head that can be rotated 360 degrees and tilted 90 degrees. 1/4 inch standard thread. The legs can be stretched. It is convenient to place the webcam anywhere.
Excellent Compatibility
The webcam is compatible with Skype, OBS, Twitch, Youtube, Facebook Live, XBOX ONE, Zoom, Mixer, Xsplit, Twitter, WhatsApp, Yahoo Video Messenger, MSN, Android IPTV, etc. Suitable for most software programs. The Pasavant webcam allows you to perform high quality live PC broadcasts.
Packing List of the Pasavant Webcam (W8)
1 * Pasavant webcam W8
1 * Smart Mini Tripod
1 * Multilingual manual
1 * Exquisite packing box
FAQ
Q: Why couldn't my computer see this webcam?
A: If your computer has a built-in camera, please disable it first. In Windows 10, right click the Start button – go to Device Manager — look for cameras — click the little arrow next to it. You should see two devices, your built-in camera and the one you purchased that has the HD camera on top. Right click on your built-in camera and you should get the option to "Disable Device".
Q: Why doesn't the picture look like 1080P?
A: The camera itself is 1080P Full HD, but some video calling software compresses the video quality. If you are using the Zoom software, go to Software Settings >> Video Settings >> Check the "Enable HD" option and save it. This improves the picture quality.
❤【Webcam with Ring Light has 2 Color Modes】 Webcam for live streaming contains 24 LED lights that can precisely emit light from all angles without shadow problems. There are two color modes: white light can make you more excited when playing games, and the warm light in the quiet office can effectively protect your eyes. Click the Smart Touch section to control the power on / off and toggle the lighting mode. Long press to adjust the brightness you want.
❤【Webcam with Dual Stereo Microphone】 Webcam with microphone has dual stereo 3D NR noise canceling that can clearly capture noise within 15 feet, so you can feel the surroundings and communicate without obstacles. Very useful for video conferencing, online courses, video recording, streaming games, etc.
❤【Full HD 1080P Webcam with Tripod】 The web camera supports output in YUV format and delivers high quality images at a rate of 2 million pixels and 30 frames per second. The streaming camera is equipped with an intelligent mini tripod, the ball head can be rotated 360 ° and the legs can be stretched freely. The webcam base can be rotated 360 ° to protect your privacy. Therefore, you can place the webcam anywhere.
❤【Widely Compatible Plug and Play Webcam】 The USB webcam uses the latest USB 2.0 / 3.0 technology. No need to install other drivers, plug and play. Can significantly reduce the delay and increase the transmission speed. The PC camera supports multiple operating systems and software including Windows XP/2000/7/8/10, MAC OS, Android, Linux. Works with social media and games like Zoom, Skype, Ins, YouTube, Facebook, WhatsApp, Twitter, Xbox One, etc.
❤【One Year Customer Service Warranty】 The Pasavant webcam is backed by a one year customer service warranty. If you have any questions during use, please feel free to contact us. Your feedback and opinion is the driving force for us to move forward.
laptop camera,#Pasavant #1080P #Webcam #Dual #Microphone #Twocolor #Ring #Light #Tripod #Streaming #Webcam #USB #Plug #Play #Web #Camera #Desktop #Laptop #MAC #Video #conference #Online #YouTube #Skype