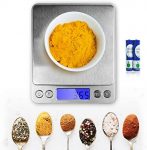 PARTYSAVING Smart Digital Multifunction Stainless Steel Jewelry & Kitchen Food Scale, APL1358

Price:

$9.30




Product Description
Key Features
Accurate & Easy-to-use – 2000g/0.1g Smart Calibration and will be off automatically in 60 sec.
Easy-to-clean – Measurement platform is easy to clean and remains cleaner than most other surface types.
Easily Readable LCD Display Back Light – Screen features a bright LCD display with an improved viewing angle for the on-the-move chef.
Battery Preservation – Low battery indicator lets you know when your battery is running low, so that you always have a charge. Auto off function automatically shuts your scale off after 60 seconds to preserve battery life.
Tare Function. Portioning Made Easy! – Whether used to measure garnishes, liquid ingredients or meal portions, the scale enables you to tare and convert
units with a simple press of a button.
Multi-function Kitchen Scale – Perfect for weighing your ingredients for precise measurments that traditional measuring methods cannot provide. Can also be used as a jewlery scale, coin scale, and more!
Specifications
Maximum weight: 4.4lb /2kg Resolution: 0.05oz /1g Power source: 2 AAA batteries(included) Dimensions: 7.09 x 5.51 x 0.59 inch Power: Auto off/Low Battery and overload indication
What's in the box?
1 x PARTYSAVING Smart Digital Scale 2 x Clear Trays (large + small) 2 X AAA Batteries
🍪 EASY TO USE : Weigh up to 2000g / 17.64 oz; Division: 0.1 g / 0.004 oz, Smart Calobration and will be off automatically in 60 seconds.
🍪 TARE RANGE: Precision Tare Button calculates the net weight of your ingredients (automatically subtracts the weight of any bowl or container)
🍪 BACK LIGHT DISPLAY : LCD screen Will display readings in G, OZ, OZT, DWT, GN, and CT.
🍪 USER-FRIENDLY : Designed with a sleek stainless steel platform for easy cleaning and maintenance
🍪 READY-TO-USE : The item comes with Manual, Two clear bowls, and 2 AAA batteries
weight loss gadgets,#PARTYSAVING #Smart #Digital #Multifunction #Stainless #Steel #Jewelry #Kitchen #Food #Scale #APL1358