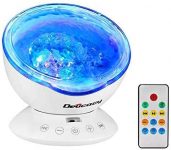 Ocean Wave Projector,Delicacy 12 LED Remote Control Undersea Lamp 7 Color Changing Music Player Night Light Projector for Kids Adults Bedroom Living Room Decoration

Price:

$25.95




Product Description
7 Light ModesThere are 7 various light modes: multicolor lighting, multicolor cycled lighting, multicolor quick flashing, purple atmosphere,solid blue, solid green, etc. Create a romantic or peaceful atmosphere for your home party entertainment or leisure.
Control with EaseLong press the middle key to turn on or turn off. Shortly press to switch light modes. Easy to control the volume and hypnosis music with the sensitive keys on the projector. Moreover, you can freely control the projector by the provided remote controller, which is powered by 2 AAA batteries (not included). Save your efforts!
3 Auto Off Timer Options:Built-in 1H, 2H, 4H auto off timer, freely to set shut off automatically after the present time by remote controller. And of course timer can be cancelled to stay on all night long.
Music PlayerThe ocean wave night light projector has built-in speaker so you can insert TF card to play music or connect it to your iPod, MP3, laptop, cellphone and so on via the included 3.5mm audio cable. Enjoy your preferred music in the pleasant atmosphere.
Nightlight with Hypnosis MusicBuilt-in hypnosis music to choose from: ocean wave sounds, flowing water bird sounds, forest insect sounds, merry nature sounds. Further, the motor works with minimal noise without disturbing you. Bring you a calming surrounding to relax and fall asleep easily.
Adjustable Display AngleOur ocean wave projector light can be flexibly adjusted to the suitable angle for casting light
Specifications
Rated Voltage: DC 5V/1ASize: (width) 4.96 × (height) 4.13inUSB Cable Length: 1.2m/47.2inAudio Cable Length: 0.6m/23.6inMusic Formats Support for TF Card: WAV/MP3
Packing List
1× Ocean Wave Light Projector1× Remote Controller1× Audio Cable1× USB Cable1× User Manual
✔【 Remote Control & Touch Senor】: The Delicacy latest ocean wave night light projector with remote controller and touch senor keys,freely turn on/off the lamp, change lighting mode, adjust the volume, to set automatically turn off timer.(NOTE: Adapter Not Included)
✔【 12 LED & 7 Color Changing Mode】: Multicolor ocean wave projector night light lamp with 7 kinds of color model changing,choose which mode show depending on your mood , show you a watery ocean atmosphere,bring the seaside home to you!
✔【 45 Degree Display Angle Adjustable】: The projector can be based on your needs 0-45 degrees tilt, along the different directions upright or projection. Perfect for any festive party decorations for children to create a pleasant and relaxing bedtime experience, soothing and comfortable children to sleep.
✔【 TF Card Readable】: Built-in Mini Speaker and plays your favorite song while light show, and the audio input can be connected to mp3 player, ipod,iphone,ipad,android phone,tablet pc and PC for music playing.enjoy romantic, relaxation, cozy atmosphere music.
✔【 Auto Off Timer】: 3 Auto off timer options (built-in 1H, 2H, 4H auto off timer) the lamp will automatically shut off after the preset time. And of course timer can be cancelled to stay on all night long. You can access these settings and options without getting out of your bed.
baby gadgets,#Ocean #Wave #ProjectorDelicacy #LED #Remote #Control #Undersea #Lamp #Color #Changing #Music #Player #Night #Light #Projector #Kids #Adults #Bedroom #Living #Room #Decoration