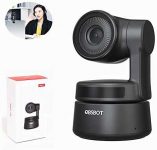 OBSBOT Tiny 1080P Webcam with Microphone AI Tracking Auto-Exposure Gesture Control, USB Streaming Web Camera for Laptop MAC Desktop PC Online Meeting Classes, Plug and Play, for Zoom Skype YouTube

Price:

$199.00




Product Description
————–OBSBOT Tiny Webcam: AI-Powered PTZ Webcam which supports plug and play—————-

[Useful Tips:]
Concerning Gesture Control, please put the hand close to your face as our tutorial video demonstrated, about 5-30cm distance, and hold on about 2-3s.
[Webcam Features:]
1080P Full HD Web Camera: Video Calls with FreedomAl Intelligent Tracking with Auto-FrameLaptop desktop webcam with Gesture ControlAl Auto-Exposure and Smart White Balance2-Axis Gimbal Web Camera with Mirophone- Unparalleled PrivacyEasy to Install and Easy to Use, Good quality video and audio for meetingsUSB Plug and Play WebcamComputer cameras with Audio Support+Software SupportPro Streaming Webcam for Various Placements, Various Scenarios
OBSBOT Tiny Webcam: Laptop Desktop Webcam HD 1080p Web Camera, USB PC Computer Webcam with Microphone

HD 1080p AI Tracking with Auto-Frame
This streaming webcam uses deep learning neural networks to achieve AI tracking with auto-frame.OBSBOT 1080p webcam always keeps stable and smooth tracking, and automatically keeps you framed front and center in all your streams and videos. All you need to do is be yourself.
Webcam with Gesture Control
OBSBOT Tiny computer webcam has first of a kind implementation of gesture control in AI webcam.Empowering users to access a series of functions such as select/cancel tracking target, zoom in/out with natural simple gestures. No need to press the button or interrupt your flow.
USB Plug and Play Webcam
OBSBOT web camera with microphone is an AI-powered PTZ Webcam which supports plug and play. Feel free to have a video call.Specifically designed for professional ZOOM video conferencing when working-at-home, social video, gaming video, smooth images for all face video.
OBSBOT Tiny Web Cam: Easy-to-Set-Up PC Video Webcam, features built-in digital stereo microphone with automatic noise reduction

2-Axis Gimbal Webcam- Unparalleled Privacy
OBSBOT Tiny pc camera can cover your entire room view with a 2-Axis gimbal.Simply tilt the usb webcam down to instantly shield yourself from view. Protect your instant privacy at a moment's notice.USB 2.0 or USB 3.0 port.
Computer Cameras with AI Auto-Exposure
OBSBOT webcam for desktop is totally different from any other webcams in auto-exposure and white balance which always focus on making the person looks great in recording, video calling, online teaching, gaming, even in dim or poorly backlit.
Laptop Camera with Audio Support
OBSBOT webcam with microphone features premium audio performance with built-in dual Omni-directional mics with noise cancellation.This video camera for computer is perfect for your daily use when online video chat/study/office conference/meeting/streaming.
OBSBOT webcam with tripod stand

Pro Streaming Webcam specifically designed for professional quality video calling, recording, conferencing, gaming
App Downloaded: OBSBOT TinyCam
OBSBOT desktop camera provides a computer software which can do some basic control such as adjust the rotation of the gimbal, select target or unlock target, zoom in/out, set preset positions, and so on.
OBSBOT Tiny USB Webcam: easy to install and use, plug and play

Details and Accesories
01 Lens 02 Camera Indicator03 Microphone 04 DC Power Port05 Type C Port 06 UNC 1/4-2007 Magnetic Base 08 Magnetic mount
OBSBOT Tiny camera for computer can be placed on the table, or using magnetic adsorption or tripod to help fix the computer cameras, you can also use other various methods.
OBSBOT Tiny AI-Powered PTZ Webcam Technical Parameters

Size
Size(without mount ):89.4mm x 58mm x 58mm; Size( with mount ):142mm x 58mm x 58mm
Weight
Weight (without mount):146g; Weight (with mount):175g
Max video resolution
1080p/30 fps, MJPEG, H264
Supported resolutions
1920×1080, 1280×720, 960×540, 640×360
Zoom
2X Digital Zoom
Stabilization
Pan:-150°~+150° Tilt:-45°~+45°
Build-in Audio
Built-in dual Omni-directional mics
Data Port
USB Type-C
Max Speed Control
120°/S
Other Interface
UNC 1/4-20
App
OBSBOT TinyCam
Operating Environment
Camera working environment temperature: 0°C-40°C
Computer System Compatibility
for Windows: Windows 10 or higher、Windows 8、Windows 7; for macOS: Mac OS X 10.13 or higher
Platform Compatibility
for Tiktok, Youtube, zoom, skype, xsplit, Meet, Streamlabs, DindTalk, Twitch, Liveme, Open broadcaster software, cisco Webex, ecamm, vMix, WeChat, bilibili
Package Content
OBSBOT Tiny AI Webcam X1; Type-C data power cable X1; Magnetic mount X1; User Manual X1
👍【Auto-Exposure Webcam】Based on our powerful AI functions, OBSBOT Tiny web cam ensures you the best exposure even in a poor light condition. This computer webcam is totally different from any other webcams in market, it deserves your attention!
👍【Streaming Webcam with Built-in Microphone】Premium audio performance with built-in dual omni-directional mics with noise cancellation. This streaming webcam is the best choice for computer video, which can provide the best video conference experience even in a noisy environment.
👍【Plug & Play Computer Cam with Privacy Protection】Simply tilt the usb web camera down to shield yourself from view. Protect your instant privacy at a moment's notice.
👍【Wider Application& Greater Compatibility】Smoother footage and video output, easier to share video with friends, enjoy full fun of gaming. The USB computer webcam is perfect for online working, Video-chatting, streaming and Conferencing on PC, desktop or laptop. OBSBOT Software is compatible for YouTube/Netmeeting/Skype/Zoom/Wechat/Tiktok/Facebook/FaceTime/Xsplit, ect.
laptop camera,#OBSBOT #Tiny #1080P #Webcam #Microphone #Tracking #AutoExposure #Gesture #Control #USB #Streaming #Web #Camera #Laptop #MAC #Desktop #Online #Meeting #Classes #Plug #Play #Zoom #Skype #YouTube