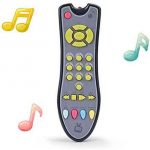 NUOEY Kids Musical TV Remote Control Toy with Light and Sound, Early Education Learning Remote Toy for 6 Months+ Toddlers Boys or Girls

Price: $15.99 - $13.59


Description:
-NUOEY Baby Realistic Musical TV Remote Control Learning Toy-
Does your baby like playing TV remotes?
Don't worry. This early education toy can help you solve this problem.
Our remote control toy looks like regular remote, fun for toddlers.
Keep your baby entertained:
The sound and soft light can entertain baby, and stimulating your baby's fine motor skills.
Each switch causes a different language and sound.
It can also help your baby discover cause and amp, develop his cognitive and thinking ability.
Encourages and helps your baby explore and learn.
Channel keys:
Imitate the real TV remote setting to swift different channels by up and down key.
Baby can experience the reality during imitation, help baby to accumulate life experience.
Learning and Playing:
Through this imitative play,
the toy introduces early concepts around numbers and shapes as children exercise their fine motor skills.
Ideal Children's Gift:
Fun to play with and the perfect replica. Nice sturdiness off a toy.
Infant, Toddler and Kids Pretend Play Birthday Gift.
Perfect for Holiday Toy Gifts, Christmas Gift, School Classroom Prize, Kids Intelligent Learning Toys,
Baby Toy Remote and Phone, Baby Shower and more.
Specification:
Material: ABS plastic
Color: Gray
Size: 2.08 x 1.18 x 7.08 inch
Weight: 0.18 KG
Language: English, French and Spanish
Battery:2 AAA batteries are required (not include)
Package Content:
1 x Gray TV Remote Control
[Music and Sound Remote]–This TV remote control toy include soft light and playing realistic sound, help strengthen important senses like sight and hearing. Inspire early role play fun.
[Educational Learning Toy]–The remote control toy is also an early education learning toy. Baby above 6 month old is curious to the everything. Colorful buttons introduce colors, numbers to develop his cognitive and thinking ability.
[Realistic Remote Control]–Fun remote for toddlers. Imitate the real TV remote to setting, looked like the real. Your child can enjoy imitative fun while playing with a TV remote control toy that looks just like mom and dad's!
[3 Different Language]–It has English, French and Spanish, total 3 different language. The remote control features channels keys to imitate a TV remote switching between different channels, so that the baby can experience the real life during imitation.
[Best Gift for Toddlers]–Easy to Use. Buttons designed for small hands, pressing buttons helps give motor skills a fun workout. It's a great travel toys, need 2 AAA batteries are required (not include). Perfect gift for 6 months+ boys or girls.
baby toys,#NUOEY #Kids #Musical #Remote #Control #Toy #Light #Sound #Early #Education #Learning #Remote #Toy #Months #Toddlers #Boys #Girls