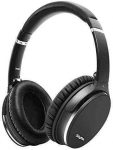 Noise Cancelling Headphones Wireless Bluetooth 5.0,Fast Charge Over-Ear Lightweight Srhythm NC35 Headset with Microphones,Mega Bass 40+ Hours' Playtime -Low Latency

Price:

$49.99




Product Description
Foldable & Lightweight Headphones
Skin texture,All-day comfort
Upgraded Soft Ear Cushions for Comfort with The professional memory protein earpad and 110 swiveling earcups, the Skin texture, lightweight comfortable around-ear fit you can wear all day long. Gentle Reminder: Please take off the headphone every 1-2 hrs to get your ears to relax and better hearing enjoyment.
UNIQUE Foldable & Ultralight Noise Cancelling Headphones

90°-170° multi-angle flexible rotation with adjustable headband,0.4LB only
Srhythm NC35 active noise reduction quells 90% of stable low frequency background noise when in noisy environment airplane/subway/car/office/factory etc.The noise reduction is up to 20-25dB. And makes you to immerse into the music.
Much better Dual Noise Reduction sensor for travel,busy office and crowded
Clear mega bass, 40mm HD premium speakers
Up to 40+ Hours Playtime with Build-in 800 mAh Rechargeable lithium-ion Battery
Latest CVC8.0 with V5.0 Bluetooth, make Faster & Clearer Hands-free calls
Fast Charge & Extra Charging Protection
Lighter & More Comfortable, Foldable Space-Saving
Headphones On,World Off
ANC works well in both wired and wireless mode.It's NOT 100% noise cancelllation, Human talking CAN NOT be elimated and ANC is less effective in quiet environments.Reminder: Please turn off the ANC switch when not in use to save power.
Built-To-Last Battery with Over-voltage Charging Protection
Just 10 minutes of lightning charging gives you Amazing 3 hours sound.1-2 hrs full charge delivers up to 40+ hrs playback.Exclusive Srhythm Over-voltage protection technology, ensures the safety during Srhythm bluetooth headphones charging
Immersive Sound & V5.0 Bluetooth
Dual Powerful Φ40mm HD speaker units drivers combined with an Advanced Bluetooth V5.0 CSR chipset connects in seconds from up to 33ft (10 meters) away, deliver high fidelity deep bass and true to the original music. Built-in cVc 8.0 microphone ensure crisp, clear calls without ambient noise,make you enjoy a more faster and stable transmission.
Bluetooth adaptor support for TV
1.Make sure the adaptor with Transmitter/TX/Launch mode,some adaptor only have Receiver/RX mode.
Transmitter adaptor include AUX port and audio cable
2.Pairing steps(please use audio cable together.don't use adaptor alone)
Plug adaptor into USB port to supply power,
Insert the 3.5mm audio cable into audio port on the adaptor,
Insert the other end of audio cable into the audio output of your TV
Noise Reduction Depth
20-25 dB
18-23 dB
23-27 dB
18-23dB
Bluetooth
CSR V5.0
CSR V4.1
CSR V5.0
V5.0
Microphone
CVC 8.0
CVC 6.0
CVC 8.0
✓
Battery Life
40+ Hrs / 800 mAh
16+ Hrs / 360 mAh
40+ Hrs / 750 mAh
20+ Hrs /400 mAh
Net Weight
0.4LB
0.4LB
0.6LB
0.5LB
Foldable & Rotation
✓
✓
Rotation
✓
Voice Assistant&Google Assistant
✓
✓
✓
✓
Carry Case
✓
✓
✓
Portable Carry Bag
Additional Features
Gun-Black,Super-light,Extra Bass,Quick Charge,USB-C
Matte-Black,Super-light
Metal-Black,Extra Bass,Quick Charge, Suitable for Big ears
Active Noise Cancelling,Stylish colorful looking
Release Date
2019.10
2018.3
2019.8
2020.7
Elegant Appearance & Tiny Lightweight Folding: Light for head relaxing and portable for traveling storage. Durable headset 0.4 lb ONLY! 90°-170°ear-cups' multi-angle flexible rotation with adjustable headband of 8 levels' size stretch. Ergonomic international standard size.
Fast Charge & 40+Hours Enjoyment: Charging 10 minutes to use 3 hours.High efficiency and energy-saving Bluetooth 5.0 to prolong playtime up to 40 hours after 1-2 hours' full charge.Built-in sensitive microphones for easy communication under Bluetooth mode.Support Siri voice control.3.5mm stereo audio cable as back-up when in low battery.Extra Charging protection especially for high-end cars Benz,Porsche,etc.
Ultimate Sound: Clear mega bass from unique designed sound chamber and 40mm HD premium speakers.Professionally stereo drivers' and other frequency bands' improvements make music grace to find the rhythm of your soul.Sometimes quality just needs to be heard.
Superior Comfort: Extremely comfortable memory protein leather with skin-friendly breathable feel.Exclusive Designs of Air Pressure Balance to reduce sound wave pressure of active noise reduction. Wearing much more comfortable than all other brands. Designed in Japan. Note: the exclusive authorized seller is Srhythm.
headphones,#Noise #Cancelling #Headphones #Wireless #Bluetooth #50Fast #Charge #OverEar #Lightweight #Srhythm #NC35 #Headset #MicrophonesMega #Bass #Hours #Playtime #Latency