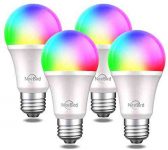 NiteBird Smart Light Bulbs Works with Alexa Echo and Google Home, WiFi Dimmable Color Changing LED Lights Bulbs, A19 E26 8W Warm White 2700k, 75W Equivalent, No Hub Required,4 Pack

Price: $32.99 - $29.99


Product Description
Specifications:
Light Emitting Mode: RGB
Power Rating: 8W
Equivalent: 75W
Input: 100-240V, 50/60Hz
Color Temp: 2700K
Base Type: E26
Lumen: 800lm
Wi-Fi Network: 2.4GHz(only)
NiteBird RGB Smart Light Bulb
Convenient Voice Control
Don't want to get up to turn off your light? Don't want to move your steps to change the light brightness? Our NiteBird smart light bulbs work with Amazon Alexa and Google Assistant, you'll be able to use simple voice commands to control all your lights, just tell your smart speaker to turn on/off or brighten/dim them. Your life will be more convenient and fun.
Remote Control from Anywhere
Forget to turn off your lights when you leave? Your smart speaker isn't near you? Open your phone App to control your NiteBird smart wifi light bulbs from anywhere at any time. Your life will be easier.
How to connect with your phone?

Step 1:Download the APP,please scan the QR code on User Manual/Package to download it.
Step 2: Make sure your Wi-Fi is 2.4GHz. Turn on and off the bulb 3 times to switch the bulb to Easy Mode (Recommended).
Step 3: Click "+" to add device,select the Lighting(Wi-Fi) to connect.
Step 4: Select a wifi network and enter the password of the network.
Step5:Name your bulb with English word only
How to work with Alexa Echo?

Step 1: Tap "Skills" in the Alexa app, then search your APP.
Step 2: Choose and click "ENABLE" to enable the Skill.
Step 3: Come to the account link page. Type in your APP account and passwords, don't forget to select the right area.
Step 4: Click "Link Now" to link your APP account.
Step 5: Call Alexa voice control your named device
How to work with Google Home?

Step 1: Open the Google home APP,then search our APP in account manager.
Step 2: Come to the account link page. Input your APP account and passwords.
Step 3: Click the "Link now"
Step 4: Call Google voice control your named device
How to work with Siri?

Step 1. Turn on the Siri permission of our APP
Step 2. Open the APP's scence, add Taptorun, name and set the operation instructions, complete the scene setting
Step 3. Click "Add to Siri"
Step 4. Follow the instructions to finish adding scene, and finally click "Save Shotcuts"
Step 5.Call Siri excute the "Shotcuts"
Millions Color Changing
With soft warm white light and 16 million colors, you can transform your room into all kinds of themes such as party, meeting and fancy dress ball. Give a "smart life" for your house!
Sync with Your Music
It's fun nonetheless being able to have multiple colors at once when you're hosting a party or playing music. There's also an option to sync the music on your phone to the app to pulse the light bulbs to match the rhythm of your music.
Scene Customization
There are 8 scene modes (Night, Read, Working, Leisure, Soft, Colorful, Dazzling, Gorgeous) to meet your life needs. You can also custom your own modes to have a blasting party.
Dimmable Settings
The color temperature of our soft warm white light bulb is 2700K, and the dimming range is 1% to 100%. You can according to your need to create a relaxing and comfortable atmosphere for your room by setting them to right brightness.
Schedule Settings
Schedule the bulbs automatically switch on/off via your phone APP, you can free your brain, your light bulbs will auto turn off after you leave home or fell asleep, auto turn on before you arrive home or wake up, It also has countdown timer.
Group Control
Use your phone app to schedule your light bulb to automatically switch on and off when you're home or away. Combine all your lights with other NiteBird smart devices in a group to control them with a single button.
Remote Control From Anywhere: Even you are not home, you also can control your smart bulb turn on/off via phone App directly, as long as your phone access a secure 2.4 GHz(only) Wi-Fi network and it's available. You can create a group for all your NiteBird smart bulbs and control them with a single button.
Multicolor and Wide Application: Our RGB smart light bulbs provide 16 million colors, you can choose a color to suit your mood from them. In addition, there are 8 pre-programmed scenes to choose from, or you can DIY scene to match various occasions. There is also a music feature where the lights will change color and flash to the beat.
Schedule and Dimmable Settings: You can schedule the smart bulbs automatically switch on/off via your phone APP. And you also can set a countdown timer. Our smarts bulbs provide standard soft warm color, you can according to your need to create a relaxing and comfortable atmosphere by setting bulbs to right brightness.
Energy Saving and Easy to Install: NiteBird 8W smart LED light bulb is equivalent to 75W traditional incandescent bulb, save up to 80% energy. To install, simply screw the smart bulbs into any standard E26/E27 light socket or fixture. If you have any problems, please feel free to contact us. Meanwhile, we will help you change the free new one if the bulb has any problem.
home gadgets,#NiteBird #Smart #Light #Bulbs #Works #Alexa #Echo #Google #Home #WiFi #Dimmable #Color #Changing #LED #Lights #Bulbs #A19 #E26 #Warm #White #2700k #75W #Equivalent #Hub #Required4 #Pack