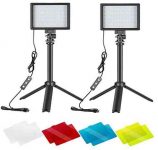 Neewer Dimmable 5600K USB LED Video Light 2-Pack with Adjustable Tripod Stand and Color Filters for Tabletop/Low-Angle Shooting, Zoom/Video Conference Lighting/Game Streaming/YouTube Video Photography

Price:

$40.99




Product Description
Neewer – Help You Build a Audio & Video World with Innovation
With multiple locations over three continents, Neewer is a global leader in photography, video, and music equipment. We are committed to offering professional premium products that have been tested by expert photographers, videographers, music lovers all over the world with great user experience from all of them. Excellent value is a core tenant of our brand, and we stand behind every item with a lifetime support.
Neewer Table Top 66 LED Video Light with Mini Tripod Stand and Color Filters (2 Packs)

Note: Carry Bag is not included.
USB LED Panel Light
Neewer USB LED Video Light can be used as floor lamp to provide the best possible light for selfie, portrait, YouTube video shooting or be used as desktop lamp to offer low-angle lighting for toy, jewelry, other small and exquisite articles photography. The light panel consists of 66 pcs energy-saving LED bulbs with adjustable brightness(10% to 100%)for providing superior lighting. It will not flicker even if at low brightness.Comes with 4 color filters (white, red, yellow and blue) for creating various lighting effect.Output Power: 10W; Luminous Flux: 1000LMLed Quantity: 66PCS; Color Temperature: 5600K; Dimmer: 10%-100%DC power input: USB 5v/2A
Tripod Stand And Extension Stick :
Mini Tripod Stable Working Height: 3.15 inches/8 centimetersMini Tripod Folded Length: 6.3 inches/16 centimetersTripod+Extension Stick Height: 9.8-13.4 inches/25-34 centimetersFolded Tripod+Extension Stick Length: 16 inches/40.5 centimeters
Package Contents:
2x USB LED Panel Light; 2x Mini Tripod Stand; 2x Extension Rod; 2x White Color Filter; 2x Red Color Filter; 2x Yellow Color Filter; 2x Blue Color Filter
Professional USB LED Video Light for Tabletop/Low Angle Shooting

SMD LED Bulbs
This Video Light is designed with 66 pcs energy-saving SMD LED Bulbs with low heat ouput and energy usage when compared to incandescents and CFLs, wider illumination and accurate color temperature.
Excellent Heat Dissipation
Using stereoscopic heat holes, surrounded by four sides, it can dissipate heat effectively, prolonging service life.
Adjustable Angle
Come with Shoe Mount Adapter Head, it allows the angle of the panel lighting to be adjusted 180 degree and 360 degree.
Extra Long Power Cord
74 inches/188 centimeters extra long power cord brings more convenience to move this light around in the studio.
Convenient USB-Powered
Powered via USB port, you can plug it in your desktop PC, wall charger, power bank, laptop, etc. More convenient for your creation work.
Standard 1/4″ Screw
Mini Tripod features with standard 1/4″screw for connecting to the panel light directly, so low-angle shooting is available.
Handheld
With its lightweight and compact design, this video light supports flexible handheld use with the extension rod stick installed.
Video Call Lighting: With adjustable brightness from 10% to 100%, get soft and even lighting on a video call with this tabletop lighting kit. Ideal for Zoom meetings, Skype calls, YouTube streaming, and more
USB-Powered Light: Keep the LED light powered via a USB wall charger (5V 2A) or USB power strip. For continuous long-time use, avoid powering the light with a laptop, tablet or power bank in case of fast battery drain and insufficient power output
Optional Color Filters: Included 8 filters with 4 colors (white, yellow, blue, red) give you the flexibility to create colorful lighting effects for game live streaming and more
Foldable & Extendable Tripod: With a minimum height of 3.15"/8cm, the mini tripod can be directly mounted to the panel light to offer an ultra-low position lighting. It is easy to set up and fold down. The height can be adjusted from 9.84" to 13.39" (25cm to 34cm) when using with the extension rod
Package Contents: Neewer LED Panel Light with USB Cable 2-Pack, Two Mini Tripods, Two Extension Rods, Two White Filters, Two Yellow Filters, Two Blue Filters, Two Red Filters
portable camera,#Neewer #Dimmable #5600K #USB #LED #Video #Light #2Pack #Adjustable #Tripod #Stand #Color #Filters #TabletopLowAngle #Shooting #ZoomVideo #Conference #LightingGame #StreamingYouTube #Video #Photography