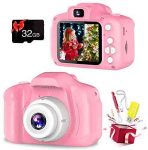 Nasole Upgrade Girls Selfie Camera, Christmas Birthday Gifts for Girls Age 3-9, HD Digital Video Cameras for Toddler, Portable Toy for 3 4 5 6 7 8 Year Old Children with 32GB SD Card – Pink

Price:

$29.99




Product Description
Why choose our Nasole kids camera?

It is very funny, really easy and it can improve kids creativity.
Let children away from electronic products and love the truth of nature. Cultivate children's photography hobbies, develop kid's brain.
This kid camera also provides a fantastic way for your child to learn and play as well as build their confidence.
Product Specifications:
Battery capacity: 600 mAhInput voltage: 5V-1AScreen size: 2.0-inch IPS screenCamera size: 3.3*2.5*1.96 inPortable weight: 68 gCharging time: 2 hoursLargest extension SD Card: 32G
Gift for Kids
Good partner for children!
This new video recorder has extremely high cost-efficiency. With cute appearance, special IPS screen, high resolution video and portable design.Kids Digital Cameras with a protective shockproof silicone shell camera. 2 Inch LCD Screen and high-definition picture and video( 2000W HD pixels and 1080p HD video, Front Rear Dual-Lens , Support Selfie ).
Package Included
1* Kids Camera Pink1* 32GB Memory SD Card1* USB Charging Cable1* Hanging rope 1* User manual
USB connects computer
The camera comes with a 32GB TF card and USB charging cable. You can use the cable to transfer files to your PC or laptop and charging this camera.
Time Lapse Capture
Turn on the time Lapse. It gives your kids enough time to pose for camera and capture the amazing moment. Photo will be taken automatically in 2 seconds /5 seconds /10 seconds.
Five puzzle games
Educational games are specially designped for kids who are 3 to 10 years old. These games help to cultivate children's curiosity, concentration and reaction.
Hang rope design
A durable sling designed specifically for children hangs the mini camera around the neck, preventing the kids camera from falling and being easy to carry.
Funny Frames and Lens
4 funny frames and 6 color lens for kids to choose, just press "up" and "down" to switch. HD photos and videos can record the wonderful moment of your kids' childhood!
Selfie Camera
Updated to a dual-camera configuration to satisfy children's fun in taking selfies. Children can take selfies with family and friends to catch the wonderful joy moment.
Note :
When the camera indicates that the battery is low, please use the included data cable to charge it in time, plug it into the 5V power converter or the power USB port for charging. This unit is not equipped with a charger.The camera screen is with protective film to prevent the screen from being scratched during transportation. The protective film may be scratched during transportation. Remove the protective film and you can see a brand new screen.Do not disassemble it by yourself to avoid danger.Do not beat or squeeze the camera to avoid damage to internal electronic components.This camera is an electronic product that is not waterproof. Do not expose the camera to splashing water.
🎁【Best Gift for Kids】- The camera for kids has multiple functions, including take photoes, videoes, playback, voice record, delay capture, burst shooting, and puzzle games.keep children away from phone and computer ,develop good habits , and record their wonderful moments with the mini digital camera.This is the fantastic gifts for kids, toddler, girls, boys age 3-9 years old for Christmas Day, Birthday, New Year, Easter and other Holidays.
🔨【Safe & Durable Shockproof】- This kids camera is cute appearance, Round edge geometry shapes without sharpness, light weight and Small Size,boys and girls can carry the digital camera outdoor easily. This camera is used high quality non-toxic soft plastic,more safe and comfortable for children's skin. Shockproof shell provides effective anti-fall protection.
🔋【Digital Camera for Kids】- kids digital camera,The kids camera digital equips with 2.0 inch IPS screen, 1.2 Mega pixels and 1080P HD video, 32GB TF card is included in the camera. 600mAh Lithium battery powers for the camera, which can last 2-3 hours when battery fully charged, also very convenient and fast for USB charging when the battery dead.
📦【Mini kids digital camera】- In the box come with children's Camera, 32GB TF card, card reader, USB charging cable, lanyard. No need to pay extra costs to purchase other accessories. You can also get worry-free after-sales service. Let your daughter have a wonderful kids camera toys immediately!!
portable camera,#Nasole #Upgrade #Girls #Selfie #Camera #Christmas #Birthday #Gifts #Girls #Age #Digital #Video #Cameras #Toddler #Portable #Toy #Year #Children #32GB #Card #Pink