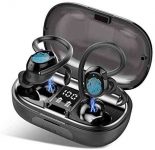 MuGo Wireless Earbuds, Bluetooth Headphones Sport, Waterproof Headset Deep Bass Loud Voice Call with Smart LED Display, BT5.0, Touch Control, 100H Playtime for Sports Running Gaming Workout, Black

Price:

$43.99




Product Description
True wireless bluetooth headphones designed for sports enthusiasts

Bluetooth 5.0 provides faster and more stable connection.Ultra-lightweight comfort.Powerful sound in a super-secure fit.Double ear hook design, let you exercise as much as you like.
MuGo Bluetooth 5.0 Headphones is the perfect selection for all of your mobile lifestyle needs. You can now enjoy exceptionally clear high definition music with these true wireless earbuds.
The Most Advanced Bluetooth 5.0 Technology
With advanced Bluetooth 5.0 chip provides deep powerful bass and balanced audio clarity for a true premium audiophile to a listening experience when listening to music and in call stereo sound.
Smart Touch Control
Just tap the earbuds to answer, reject the call, hang up the phone, wake up Siri, music play, pause, previous, next track, volume up, down or access to other functions. Finish all these operations on earbuds to improve life quality!
Light Weight and More Comfortable
With the latest ergonomic ear hooks, more flexible rubber, our bluetooth wireless earbuds are built to endure, light weight, offer you unshakable fit and comfortable wearing. Even you are running fast, they still remain on your ears.
2600mAh Multifunctional Charging Case
Use cable to charge the case. Placing earbuds back to 2600mAh charging case enters the charging mode automatically. Designed with USB port you can charge your phone or other devices as power bank in emergence.
3 Different Size Options
MuGo headphones adopt ergonomic design to stay in your ears securely and make you feel comfortable for long time use. Besides, we could offer you 3 pairs of different sized soft silicone ear tips, which you can choose the ones that fit your ears.
Package Included:
2 * Sport Bluetooth Earbuds
1 * Charging Case
1 * USB Charging Cable
3 * Ear Tips S, M, L
1 * Manual
Matters needing attention:
1. In order to ensure a smooth connection, it is recommended that the distance between thephone and the earphone is within 20 meters(barrier-free).
2. If there is stuck when talking or listening to songs, or if there is a crash or the earphone isconnected to the mobile phone but there is no sound when playing music, put the earphoneinto charging bin and closed the cover.
3. Only one earphone has sound, reorganize the two earphones.(Delete the pairing in thephone first, then put the two earphones in the charging bin and close the cover. Take it outwhen the red light is on, and wait for 15 seconds before the blue light flashing state.)
4. Charging error or unable to charge, check whether the charging cable is connected correctlyor whether the earphone is loaded, recharge it.
One step pairing and ip7 waterproof: when you take the wireless headset out of the charging case, they'll automatically connect to the last paired device, the range is up to 66ft away. ip7 protection level effortlessly protects the earbuds against water, sweat and rain, allows you to keep your call smooth and the music playing.
Any earbuds can be the master and touch control: use MuGo wireless earbuds bluetooth as mono earbud to take calls or music while driving or crossing the street, and keep the other in the case. also, the touch control button supports volume and calls and tracks control and siri or google assistant activation for more convenience.
100hrs playtime with charging case: bluetooth earbuds can last for over 5 hours' playtime from a single charge and 100 extra hours in the charging case. this wireless headphones are very suitable for outdoor sports, no more worries about battery life on the go. designed with usb port you can charge your phone or other devices as power bank in emergence.
Secure silicone earhook design for sports: the unique secure fit ear hooks ensure the earbuds won't fall out during workouts without wire hung around neck. perfect for running, hiking, yoga, exercises, gym, traveling and etc. comes in 3 sizes of silicone earbuds s, m, l for perfect fit and sound effect.
wireless headphone,#MuGo #Wireless #Earbuds #Bluetooth #Headphones #Sport #Waterproof #Headset #Deep #Bass #Loud #Voice #Call #Smart #LED #Display #BT50 #Touch #Control #100H #Playtime #Sports #Running #Gaming #Workout #Black