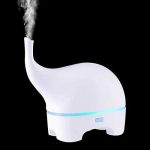 MissRHEA Small Elephant Essential Oil Diffuser, 120ml USB Kids Ultrasonic Aroma Diffuser Humidifier, 7 Color Changing Night Light & Waterless Auto-Off for Bedroom, Baby Room, Home, Office

Price: $19.99 - $14.99


Product Description
Specifications
Capacity:120ml
Working time: 6 hours
Size:6.5×3.0x6.1inch
Power cord length:66.9inch
Noise Level: less than 36dB
Weight:0.73lb
Material:PP/APS Voltage: 5V 1A
Ultrasonic frequency:2.4MHZ
Lighting modes: Colorful 7 modes
What This Diffuser Can Do for You?
Diffuser/Humidifier/Night Light
Add a drop of your favorite essential oil, it can help remove bad odors, bring a fresh and clean scent to your space.
The humidifier function adds moisture to the air to help you sleep better, cough less and alleviate dry sinuses.Increase the humidity, dramatically improve your health and comfort.
It could work as a night lamp. help children who are afraid of dark night get a better sleep
Safe and secure
Add water below the MAX line for stonger mist.
You can keep this aromatherapy diffuser on at night, no need to worry about overheating because of the waterless auto-off protecting function, which assures safety for you and your family.
Soothe the mood
Essential Oil Diffuser&Humidifier:
MissRHEA kids humidifier could be used as a aromatherapy diffuser if add drops of essential oil into the water; if without the oil, it is also a humidifier to keep room moisture, avoid dry skin.
Guard the night
Style with 7 colors that can add atmosphere to your room. The seven colors alternate slowly, avoiding eye irritation
Short press: Spray & Light ON /OFF.
Long press: Light ON/OFF
sleeping time
excercise time
working hours
as a gift
Auto Shut-off
✓
✓
✓
✓
Capacity
120ml
180ml
80ml
220ml
7 LED Lights
✓
✓
✓
✓
Longest Working Time
6H
6-8H
6-8H
8H
Features
Small Elephant Essential Oil Diffuser
Whale Shape Aromatherapy Diffuser
Shell Shape Aromatherapy Diffuser
Magic Box Oil Diffuser Humidifier
【Elephant-Shaped Design】 This essential oil diffuser with elephant shape matches any decoration places, creating simplicity and tranquility ambiance. Especially fits for Baby room, children room and office desk. Cute elephant diffuser makes for a fantastic gift to all friends and family.
【Colorful Mood Light】 Aroma diffuser spark your kid's imagination with 7 changing mood lights, can create a nice ambience in your bedroom at night. It will be a perfect choose to put it in child's room for a restful night's sleep.
【120ml & Auto Off Function】 This humidifiers with waterless auto shut-off, run steady and noiselessly, You can enjoy a restful sleep and keep this diffuser on at night without worrying about overheating.
【Super Quiet & Healthy】 Silence operation below 20dB allows you to sleep and work easily in a comfortable and quiet environment, With safe and eco-friendly PP/ABS as well as state-of-the-art production processes, suitable for health-conscious people such as pregnant women, baby, and kids
【Release Fatigue】 Elephant diffuser could be used as a aromatherapy diffuser if add drops of essential oil into the water. Moisten skin, humidify air, reinforce immunity, relieve stress, and improve sleeping.
baby gadgets,#MissRHEA #Small #Elephant #Essential #Oil #Diffuser #120ml #USB #Kids #Ultrasonic #Aroma #Diffuser #Humidifier #Color #Changing #Night #Light #Waterless #AutoOff #Bedroom #Baby #Room #Home #Office