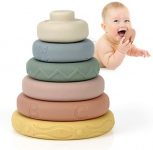 Mini Tudou 6 Pcs Stacking & Nesting Circle Toy,Soft Building Rings Stacker & Teethers,Squeeze Play with Early Educational Learning Stacking Tower, Best Gift for 6+ Months Boys&Girls

Price:

$14.99




Product Description
Stack Stack Stack~Stacking fun never end!!!
From smallest to largest,From largest to smallest,
Little baby,use your creativity to stack everything you want!!!
WONDERFUL STACKING CIRCLE

The stacking circle is made of high quality Food-grade Silicone.Packing include 6pcs different size rings.This stacking ring is designed for baby to satisfy curiosity and the tactile experience.This product is soft and chewable,can be use as an teether.The size of the ring is from small to large (diameter: minimum 2 inch, maximum 4inch)Stacking circle can produce the BIBI sound when baby squeezing it,perfectly catch baby's attentions.Animals,Letters and Texture on the surface of ring.Suitable for ages 6+ months baby boys or girls.Best choice of holidays gift for new born baby.
More Information

Fun Stacking Game
Cute stacking circle can build whatever shape that you want.Stack them up up up…All the way to the top.You can find many different shape that you can build!Like Inverted triangle,Triangle,triangle and etc.
Soft Protect Baby
Many children got hurt from plastic or wooden building toys.Our stacking circle are soft and smooth, perfectly avoiding all the factors that may harm children.Parent can feel free to let your baby knead it with or step on it.
Whistle Design
A lot of parent don't know what to do when baby is crying.Our stacking circle is a very good choice at this moment.When you squeezing the circle,it will produce Bi Bi sound to catch baby's attention to make they stop crying.So stacking ring is also a very good whistle toy!
Excellent Teether
Our building rings made of high quality and safety Food-grade Silicone.Softy and chewable.It can use as a teeth for baby that in molar period.They can play stacking game and bit it at the same time.It's the great choice for new born baby.
Wonderful Colors
After our unremitting efforts and testing, we finally chose 6 colors that are most attractive to children and good for their eyesight. These colors are beautiful and enduring, so children love it.Children have expanded their knowledge of colors when playing stacking games.
Education Development
Our stacking circle is the best early learning toy for kids.Include animals,shapes,letters and textures.It can exercise kid's hand-on ability,shape Recognition,letter Learning,texture perception and animal cognition.Help you baby become better than other baby when they are young.
TIPS:

Please use wet wipes to clean the surface of the stacking ring before baby bit it.The stacking circle are packed very quickly after the manufacture, there for may have some smell when you opening the package.If you meet that situation,please put the circle out in air or under the sunlight for couple hourMake sure keep dry inside the stacking circle,If the water stay in it for a long time, there may be a peculiar smell.If you have any issue about the toys,Our service team are always ready for serving.
Recommended Age
6+ months
0+ months
0+ months
0+ months
0+ months
18+ months
Education
creative,math,hand-on ability & intelligence develop
creative,letter,animals,math,hand-on ability & intelligence develop
intelligence & moving skill
music interest & intelligence & sleep quality develop
music interest & intelligence & hand-on ability
music interest & intelligence & hand-on ability
Material
ABS plastic
Fabrics
Fabrics
ABS plastic
ABS plastic
ABS plastic
BPA Free
✓
✓
✓
✓
✓
✓
【Safety Material】The stacking circle made of high-quality material,soft and non-toxic.Have a good hand feeling and chewable.You can rest assured that children can play and bite.
【Cute Looking】This cute building toy come with 6 different colour&size circles that is very cute.Including yellow, orange, pink, green, blue and white that is comfortable for kid to watch and identify colors and size.Four of them are decorated with animals, patterns and letters.
【Multiple Play】This stacking circle toy can bring you a lot of fun.Not only can play stacking game,it also can use as a teether&whistle.There is a small hole at the bottom of each soft circle.Squeaky sound will coming our when kids squeezing the soft building circle.
【Education Develop】Kids can stacking circle toys in anyway they want.It exercise children's hand-on ability and creativity.Unique design appearance circle also develop kid's color perception,digital cognition and shape recognition while they playing stacking game.
【Best Gift For Holiday】All the child interesting about building things.Cute out looking make the girls like it as well.The children enjoy the feeling of pushing down the building and remade.Our stacking toy is the best gift,for child and toddlers,no matter boy or girl.
baby toys,#Mini #Tudou #Pcs #Stacking #Nesting #Circle #ToySoft #Building #Rings #Stacker #TeethersSqueeze #Play #Early #Educational #Learning #Stacking #Tower #Gift #Months #BoysGirls