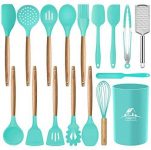 Mibote 17 Pcs Silicone Cooking Kitchen Utensils Set with Holder, Wooden Handles Cooking Tool BPA Free Non Toxic Turner Tongs Spatula Spoon Kitchen Gadgets Set for Nonstick Cookware (Teal)

Price:

$23.99




Product Description
Mibote17-Piece Silicone Kitchen Utensils Set – Fall in Love with Cooking All Over Again

What Makes Our Silicone Kitchen Tools Different?
17 Pieces in totalBPA-Free Material, 11 inch-13.5 inch longFood Grade Silicone & Bamboo Wooden HandleAnti-rust, Anti-deformationHigh-heat resistant up to -40℉/-40℃ to 480℉/250℃Easy to Wash and Convenient Storage
Best Kitchen Cooking Kitchen Utensils Set

Cookware Protect and Heat Resistant
The soft silicone won't scratch non-stick cookware or your expensive pans. The cookware utensils won't chip, warp or melt like your old plastic kitchen utensils. Heat resistant silicone (250℃/480F).
BPA-Free Material
Cooking set use food-grade silicone with BPA free to provide you with safe cooking.These cooking utensils are non-toxic, eco. friendly and non-stick.
Wooden Handle
The wooden handles have great heat insulation, protecting your hands from scalding, this durable hardwood is naturally – important for the kitchen!
Warm Tips:
***Never soak the wooden handle in water for long times which may result in cracks!
Non Corrosive and Hard Wearing – Our cooking utensils are made from the highest quality materials. Food grade silicone is safe to use for any type of food – it does not react with food or beverages, or produce any fumes. As such, they are longer-lasting than other kitchen utensils.
Hight Qaulity Silicone – Approved silicone heads cannot scratch or damage nonstick cooking pots, pans and woks like metals do. This makes them very friendly when dealing with non stick surfaces. Cooking with the non stick silicone utensils set will protect your cookware from any scratches.
Premium Wooden Handle – Pushing the boundary of modern culinary gadgets, light and renewable wooden cookware handles provide protection against rust and thawing. A utility hanging hole on each wooden handle for convenient storage organization using hooks or a wall mount.
High Heat Resistant – Approved and BPA free, our silicone tips are ultra heat resistant up from -40°F -480°F, you do not have to worry they will melt if you accidentally leave them in the pot for a while. Non-stick attributes made for hassle-free wash up.
Complete Cooking Set – This kitchen utensils set will satisfy all your needs for cooking. Everyone of them has its unique use. It would be your great companion in the kitchen. Elevate your kitchen and prepare to savor these unique kitchenware as much as the food itself!
baby gadgets,#Mibote #Pcs #Silicone #Cooking #Kitchen #Utensils #Set #Holder #Wooden #Handles #Cooking #Tool #BPA #Free #Toxic #Turner #Tongs #Spatula #Spoon #Kitchen #Gadgets #Set #Nonstick #Cookware #Teal