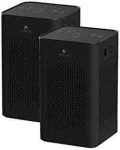 Medify MA-25 B2 Medical Grade Filtration H13 True HEPA for 500 Sq. Ft. Air Purifier | Dual Air Intake | Two '3-in-1' Filters | 99.9% Removal in a Modern Design (2-Pack, Black)

Price:

$294.99




Product Description
SILENT OR POWERFUL:
Choose between the comfort of silence at speed 1 or maximize the purifying potential of the MA-25 at speed 3.
DIMMABLE PANEL LIGHT:
Touch controls to dim or turn off the panel lights for your convenience.
COMPACT PROWESS:
Pinch hinge locking doors for quick filter access and easy to carry handles. Detachable power cords makes it easy to move. Plus, its compact size fit almost anywhere.
With the innovative touch panel, glass top, and with beveled edges produces the sophisticated and attractive design.
TWO FILTERS:
Two filters prove its purifying power with dual air intake despite the compact size.
The Medify Air MA-25 uses 3 levels of filtration to catch and remove allergens, pet dander, and more:
Pre-filter removes hair, fibers, and large particles like dander.The high-efficiency H13 TRUE HEPA filter is tested to removed 99.9% of particles down to 0.1 microns. This medical-grade filter easily catches pollen, dust mites, and other tiny airborne particles you can't see.There was a misprint on the box that stated 0.3 microns. We are updating the box to reflect 0.1 microns.Substantial carbon filter with carbon pellets remove toxic odors, smoke, and formaldehyde.
HEALTHY:
Improves overall health with clean quality medical-grade air.
CLEAN AIR:
Experience and breathe clean, high-quality air inside your home.
FILTRATION:
Filters dirty polluted air that can be harmful to your family.
PEACE OF MIND OWNERSHIP
Lifetime coverage on all parts and service for registered products as long as the filters are changed every 2,500 hours of use or 3-4 months with genuine MEDIFY AIR filters.
Medical Grade H13 Filters (higher rated than True HEPA) 99.9% particle removal. H13 True HEPA is considered medical grade air filtration, the unit alone is not a medical device.
Cleans a room up to 1,000 sq ft in one hour, 500 sq ft in 30 minutes, 250 sq ft in 15 minutes (CADR 250)
Tempered Glass panel (like your cell phone, easy to clean, won't scratch like cheap plastic models), beveled edge, 3 fan speeds, 8 hr timer, night mode, child lock
Genuine Medify Replacement Filter: ASIN B084Q965BF, 110 Volt units, USA registered Lifetime Warranty | CARB, Energy Star & ETL certified.
home design,#Medify #MA25 #Medical #Grade #Filtration #H13 #True #HEPA #Air #Purifier #Dual #Air #Intake #3in1 #Filters #Removal #Modern #Design #2Pack #Black