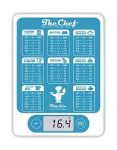 Mackie The Chef Food Scale Digital Kitchen Scale Grams and Oz Easy Precision for Cooking Baking Meal Prep, Baking Conversion Table an American Co. (Turquoise and White)

Price:

$21.34




Product Description
You are buying the best!
The Mackie Chef is a slim, compact, high-accurate Kitchen and Food scale with a Measuring Conversion table printed right under its easy-to-clean glass surface. It's the largest, easiest-to-read display, thinnest profile scale in its class. If you want the best grab the Chef and join the thousands of satisfied Mackie Scientific Chef users.
Unlike our competition, the Chef stays on a full four minutes, so you can weigh more than one ingredient, read recipes, or get items from the fridge before the Chef auto-shuts off.The Mackie Chef weighs just about anything you can think of, from potatoes to postage…up to 12 pounds (5.45 kg) in pounds/ounces, grams, fluid ounces and milliliters.Instantly convert from Cups to Ounces to Grams, no more measuring cups with way greater accuracy for the perfect recipe every time! Precision QuadSensor technology ensures accuracy even on uneven surfaces where all four "feet" don't touch the counter.Controls include Zero-out (Tare) button, quick selection between units of measure, and low battery indicator.Size: 7.9" x 5.9" x.66" (201x150x17mm). Weight: 13.1 oz. (We weighted the Chef on a Cchef so we know this figure is accurate!)
ABOUT US. The Mackie name has been synonymous with quality product design and manufacturing for over 40 years. We are located in rainy Seattle, Washington and that's where our products are designed and engineered. We pride ourselves in being a Customer-Oriented company specializing in the Science of Nutritional Calculations and Measurements; we will do whatever it takes to make you happy.
Mackie's amazingly accurate Chef scale, baking conversions made easy!

The only scale with a Measuring Conversion Table printed right on the front of the scale. This makes using the scale super simple and gives you the ability to bake and cook with extreme accuracy! We are the perfect elegant addition to your kitchen and compact enough to travel with. Our digital scale is the the most accurate and best quality of any digital scale on the market. This is our promise to you! Use the Chef to weigh your food, liquids or even postage and small packages. The Chef is: Versatile, Fast Accurate!
YOU ARE BUYING THE BEST SCALE ON THE PLANET WITH THE MOST FEATURES, BEST QUALITY AND ACCURACY. THAT IS A PROMISE!

Superior Technology!
Stays on four minutes. When weighting more than one food, or reading more of a recipe, or finding something in the refrigerator, the length of time your scale stays on is important. The Chef stays on longer than any other scale on the market.Largest weight capacity in its class — almost 13 pounds!QuadSensor technology sets the standard for consistent accuracy.Easy-to-clean, tempered glass surface.
Most Versatile and Easiest To Use!
The only scale on the market with extended 4-minute Auto-Shutoff.Precision 0.1 oz / 1 gm resolutionWeighs in pounds/ounces, grams, fluid ounces and millilitersLong-life battery-operated (battery included)Designed and engineered in the U.S.A
Not Too Big Not Too Small!
We took a lot of time (and examined a lot of competitors' scales) to derive the perfect size and shape scale to fit kitchen or office drawers — but big enough to fit a plate, bowl or pan on the tempered glass surface.Size: 7.9" x 5.9" x .66" (201x150x17mm).
Why Be Like Everybody Else?

For the past forty years, our talented team has been building successful, high-quality products in many diverse markets.
We felt we could offer more. After a lot of soul searching, we decided that we needed to shift gears and build products that help our families and community to live healthier lives.
Once we captured lightning in a bottle, we launched NutraTrack Pro. As it gained a following, we heard tales of how it helped people improve their lives by eating healthy, losing weight, training better, and even tracking diabetes carb intake. And that has led to other products such as the Chef.
We intend to continue to innovate and manufacture the finest most cost-effective health products money can buy. We will never skimp on quality; we will always listen, and we will never stop building the products that make life easier and better.
A Company With Real People Who Care

We honestly love food want you to be happy and bake to the best of your ability. So Bake Responsibly! This is the basic reason that led us to design food scales instead of lawn ornaments.
But we also want to help the world around us to be as healthy as possible. So, a portion of our profits goes towards maintaining the world's Honey Bee population. These essential little guys have declined 60% over the last year alone. Without bees, there is no pollination — which means no fruit or vegetables to weigh on your Chef. Buying Mackie Scientific products helps support research and farming methods to keep the world's bees alive and well.
Calorie Chart
✓
4 Minute Auto Hold In Between Weighing
✓
✓
1 Gram Activation and Accuracy
✓
✓
✓
Internal 999 Food Database
✓
Auto Calculates Macros, Calories & Nutritional Values
✓
Stores 999 Custom Foods and Recipes
✓
Saves Daily Nutritional Totals
✓
Full Baking Conversion Tables
✓
EASY TO USE: Place your container on the scale, hit "Tare", find your ingredient on our built-in conversion table, add your ingredients until it matched the weight desired. Our scale comes standard with a low battery indicator, precision Zero/Tare, built in units conversion for grams, ounces, pounds, pounds: ounces and milliliters and a quick reference guide to determine exact measurements between Cups, Ounces and Grams.
BEST FEATURES: Weigh anything: food, liquid, mail, postage, small parcels, meal prep Keto snacks, etc, easily remove the weight of any container weighing only the contents. Simple conversion table to determine exact measurements for the perfect recipe every time!
WHAT IS UNIQUE: 1) A full conversion table from Metric to Cups and Ounces, no further need for measuring cups. 2) Highest weight capacity at over12 lbs with precision of 0.04oz or 1 gram. 3) Allows you to meal prep, build recipes and manage your portion control without turning off for 4 minutes in between weighing.
HOW WILL THE CHEF HELP ME: Not only will it help with precision baking but now you can also live healthy, together with our free download of the USDA database providing over 6500 foods and their nutritional information now you can be a calorie and macro calculator, carb count and be a healthier you. Your new digital food & baking scale makes weighing easy and hassle free.
FRIENDLY LOCAL CUSTOMER SERVICE: 10-YEAR EXTENDED WARRANTY against any defects, free replacement. 24×7 free lifetime support! We are an American Company working out of Seattle Washington supporting and helping families for over 40 years!
weight loss gadgets,#Mackie #Chef #Food #Scale #Digital #Kitchen #Scale #Grams #Easy #Precision #Cooking #Baking #Meal #Prep #Baking #Conversion #Table #American #Turquoise #White