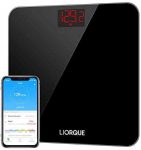 LIORQUE Digital Bathroom Scales for Body Weight, High Precision Weight Scale with App, Smart BMI Weighing Scale, Multiple Users, Sturdy Tempered Glass, 400 lb/180 kg

Price: $21.99 - $16.99


Product Description
Specifications
Maximum weight: 400lb/180kgUnits: lb/kg (switch in app)Scale interval: 0.4lb/0.2kg
Package Information:
1 x Smart Scale
1 x User Manual
2 x AAA Batteries
LIORQUE Scale for Body Weight

How to get started with LIORQUE digital bathroom scale?
Search and download Feelfit App in App Store or Google Play.Turn on the bluetooth (Location permission required for Android) of your phone and start the app.Tap '+' at the upper right corner and choose 'Device management' on the 'measurements' page. It will ask you to step on the scale to turn it on, find and tap the device named 'CS20M3' on the pairing page.Keep standing on the digital scale for 5-10s, then you can find your weight shows on both the scale and your mobile app.
Always use the scale on a flat and hard surface, and stand on the central area.
Re-calibrate the weight scale after moving it or replacing the batteries.
Weight unit can be changed from kilogram (kg) to pound (lb) by the app.
It could be misleading if meauring after exercise, dieting or in a dehydration condition.
Key Feature

Large LED Display
Unlike LCD screen, self-illuminated LED display allows you to see your weight data easily in any lighting condition.
Unlimited Users/Different Records
Share one scale with your families and friends. But your data will be stored in your own Feelfit account.
Data Store
Your data is uploaded to Feelfit app, you can check and download your weight and BMI from the app at anytime.
BMI Calculation/Data Tracking
Overview your body and track the progress by day, week, month and year. You can set fitness goal or diet adjustments based on BMI changing.
Measuring Tips

Battery Replacement
Open the battery compartment on the back of the scaleMaking sure the batteries are placed under the correct polarityChange new batteries if poor power
Flat & Hard Surface
Put it on a flat, hard surfaceNO slippery floorsNO carpetNO soft surfaces
Calibrate to "CAL"
Step in with one foot until the LED screen lights upWait for "CAL" to appear on the screenWhen "0.00" is displayed later, the scale is calibrated
Correct Position
Stand at the center of the scale when meauring.Keep 5-10s until the digits do not change, No removing, No shifting!
Weight Capacity
0.4lb – 400lb
0.4lb – 400lb
0.4lb – 400lb
0.4lb – 400lb
Units
lb/kg(switch in App)
lb/kg(switch in App)
lb/kg(switch in App)
lb/kg/st(switch in App)
Display
LED (1.9″ x 1.2″)
LED (1.9″ x 1.2″)
LED (1.9″ x 1.2″)
LED (2.9″x1.6″)
Dimensions
10.2″x10.2″x0.9″
10.2″x10.2″x0.9″
10.2″x10.2″x0.9″
11″x11″x0.9″
Data
weight+BMI
weight+BMI
14 composition
14 composition
Users per Account
unlimited
unlimited
unlimited
8
Power
2 x 1.5V AAA
2 x 1.5V AAA
2 x 1.5V AAA
3 x 1.5V AAA
App
Feelfit
Feelfit
Feelfit
Feelfit
Surface
Tempered Glass
Tempered Glass
Tempered Glass
Tempered Glass
[High accuracy] The digital bathroom scale is equipped with 4 high precision sensors in increments of 0.2lb/0.1kg with 400lb/180kg capacity. For better accuracy, please place the scale on a hard, flat surface. Avoid carpet or soft surface.
[LED Display/Safe Design] Weighing scale with large digits LED display makes the reading clearer even at night or in the dark. Tempered glass platform and round corner design makes the measurement safer. With lb and kg units(Switch in app).
[Unlimited Users Supported] Share 1 smart BMI scale with your family and friends. Your data will be stored INDEPENDENTLY in your own Feelfit account.
[Technical Support] If you have any questions about the scale for body weight, please contact us at any time, we will reply you within 24 hours.
weight loss gadgets,#LIORQUE #Digital #Bathroom #Scales #Body #Weight #High #Precision #Weight #Scale #App #Smart #BMI #Weighing #Scale #Multiple #Users #Sturdy #Tempered #Glass #lb180