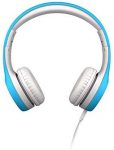 LilGadgets Kids Premium Volume Limited Wired Headphones with SharePort (Children, Toddlers) – Blue

Price:

$16.95




Product Description
LilGadgets' mission is to provide kids with a premium product they can love and an experience they can enjoy. With over 6000 4-star and 5-star reviews on headphones for children of all ages, parents should feel comfortable knowing that LilGadgets stands strongly behind its products.
We hope our headphones make your entire family happy and give you a chance to connect, share, and love.
Connect+ Premium Volume Limited Wired Headphones with SharePort for Kids

Headphones, reimagined
From the family that brought you the Untangled Pro Bluetooth wireless headphone, the Connect+ is a beautifully designed, high-quality, volume limited wired children's headphone for children aged 3-7, featuring the integrated SharePort to make sharing a little easier between kiddos.
Quality and Comfort Combined
The Connect+ is foldable and durably constructed out of a high quality polycarbonate and covered with comfortable SoftTouch Fabric.
Tech Specs
Volume limited to 93db
Frequency Response: 20Hz – 20kHz
Impedance: 32 ohms
40mm drivers perfect for rendering clear sound in-ear
Passive noise reduction
Compatible with all iOS and Android Devices, along with PCs, CD players, laptops and other tablets
Unique Features

Perfect for Travel
The Connect+ is compact and foldable, designed with your convenience in mind.
Ready to Rumble
Made of high quality polycarbonate, the Connect+ is stylish yet durable.
Made for Sharing
The Connect+ features the integrated SharePort technology, where you can connect multiple headphones to one device, no splitters needed. It's the buddy system, reinvented.
Beautifully Designed
The Connect+ is a beautifully crafted on-ear volume limited wired headphones for kids, offering crisp sound while being volume limited.
Integrated SharePort Technology

Connect multiple headphones to one device, no splitters or special cables needed. All LilGadgets headphones come with an integrated SharePort, so you can easily share media, even if you own different headphone models!
In the Box

In the Box
One Connect+ volume limited headphone with SharePort
LilGadgets 4 foot premium tangle-free nylon braided 3.5mm audio cable with inline microphone
Instruction manual
Perfect for Gifts and Holidays
Each Connect+ comes in premium quality packaging, making it a perfect gift for birthdays, holidays and more!
Type
On-ear
On-ear
Over-the-ear
On-ear
In-ear
Age
3-7
3-7
6+
4+
6+
Volume Limited
✓
✓
✓
✓
✓
SharePort
✓
✓
✓
✓
SharePort splitter included
Foldable
✓
✓
✓
X
X
Wireless/Bluetooth
X
X
X
✓
X
Travel Pouch/Case
X
✓
✓
✓
✓
Detachable Cable
✓
✓
✓
✓
X
Metal Deco Plate
X
✓
✓
X
X
Enhanced Metal Hinge Extenders
X
✓
✓
✓
X
SharePort: No need for a splitter! One earpiece connects to the device and the other can connect to additional headphones. No additional cost or pieces of which to keep track!
The LilGadgets Audio Cable is encased in 4ft. of premium braided nylon with an in-line microphone, and standard 3.5mm audio jack at each end.
Volume Limited: The max volume is 93db; Quality: Adult worthy 40mm drivers and a range of 20Hz to 20kHz, plus it's backed by our LilGadgets 100% Satisfaction Guarantee.
Comfort: Sized for kids, padded for kids, light for kids, and durable for kids (recommended for ages 3-7).
For the Kids: A portion of each purchase goes towards bullying prevention and awareness in schools through partner organizations. Additionally, we minimize the environmental impact of LilGadgets through waste reduction, carbon offsets, and water cleaning projects to help keep the outdoors clean for our kids.
baby gadgets,#LilGadgets #Kids #Premium #Volume #Limited #Wired #Headphones #SharePort #Children #Toddlers #Blue