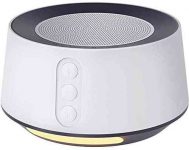 Letsfit White Noise Machine with Adjustable Baby Night Light for Sleeping, 14 High Fidelity Sleep Machine Soundtracks, Timer and Memory Feature, Sound Machine for Baby, Adults, Home and Office

Price:

$19.99




Product Description
Great For Privacy And Concentration

Effectively buffers outside noise from loud neighbors, snoring partners, street sounds, and chatty coworkers.
Suitable For The Elderly

Our Letsfit white noise machine is perfect for creating environments that can aid the elderly who find it hard to sleep. Creating a peaceful environment that gives better sleep quality for all ages.
Auto-off Timer Settings

Going to sleep? The auto-off timer can be set for 15, 30, 60, 90 or120 minutes to conserve energy. A great option for you or your little ones.
Compact Design

A Lightweight and portable white noise machine that can easily fit into your handbag, backpack or suitcase, perfect for home, office, and travel use. Portable and easy to carry, the perfect travel companion.
Item name
Smart Watch
Insulated Water Bottle
White Noise Machine
White noise sleep machine
Sound Machine
Resistance Bands Set
Features
Awaken your fitness
Keeps Beverages Cold for 24hrs
Alarm Clock,20 Soothing Sounds
Sleeping Better
Get the sleep you deserve
Build Muscles
Fit For
Adult/Youth
Adult/Youth
Adult/Youth/Baby
Adult/Youth
Adult/Youth
Adult/Youth
Soothes Fussy Infants: Our calming nature sounds are perfect for your baby's sleep routine to help them fall asleep faster and sleep longer. A Sleeping baby means more sleep for the whole family.
Great for Privacy and Concentration: Our sound machine can cover up conversations making it perfect for office privacy. It can also be used as a low-cost way of blocking out environmental noises and distractions.
Adjustable Night-light: A function perfect for new mothers, this night-light emits just enough light for night nuseries or for use when changing diapers without being too bright causing disturbances.
Timer and Memory Function: Play our white noise machine at 15, 30, 60, 90 and 120 min intervals with auto-off timer settings. Our sleep machine can remember the last sound and volume when restarted, meaning there's no need to worry about re-setting.
baby gadgets,#Letsfit #White #Noise #Machine #Adjustable #Baby #Night #Light #Sleeping #High #Fidelity #Sleep #Machine #Soundtracks #Timer #Memory #Feature #Sound #Machine #Baby #Adults #Home #Office