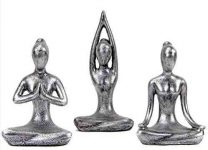 Leekung Yoga Meditation décor,Yoga Pose Statue Home Decoration,Zen Yoga Figurine for Spiritual Room décor,Set of 3 Yoga Gift Antique Silver Color

Price:

$12.49




Product Description
Yoga is a mind and body practice with a 5,000 year history in ancient Indian philosophy

In recent years,Yoga has become popular as a form of physical exercise based upon poses that promote controlling of the mind and body and enhance well-being
There are several different types of Yoga and many disciplines within the practice,it is now a popular form of exercise and meditation
Leekung Yoga figurines – A great addition to your collection

Premium handmade
The Yoga figurines and statues is made of resin material and coating with antique silver color,showing a rustic antique appearance.
Perfect Gift option
Are you looking for a perfect gift for friends or families?The Yoga figurines and statues is a great gift choice for Yoga instructor,Yoga lover,meditation lover,Buddhist,families and friends.
Size measurement:approx 3.5"x2.1"x1.3"inches,details please refer to images
Recommend to display the Yoga figurines indoor in order to maintain its original appearance
The Yoga statue is well package in soft polyfoam and perfect for gift giving
Package included: A set (3 pieces)
Easy Pose -Sukhasana
This is one of the most basic poses used in Yoga and Meditation. Sitting in Sukhasana is actually sitting any way you can with ease. For many people,to use blankets, towels, and yoga blocks will make them comfortable in this pose.This Yoga pose can stretch the knees and ankles and strengthens the back.Sukhasana is also a calming Yoga pose and common used for meditation and breathing exercises.
Perfect Pose-Siddhasana
Also known as the perfect pose or accomplished Yoga pose,this is a beginner level Yoga position.The name Siddhasana comes from two different meanings:Siddha,which means perfect or accomplished;Asana,which means pose.To Practice Siddhasana can improve your posture,lengthen your spine,open your hips,chest,and shoulders.Most people can maintain this Yoga pose for long time,it's also an perfect position for meditation.
Lotus Pose-Padmasana
Feet on top of one another with index fingers and thumbs connected, a perfectly executes the half lotus Yoga pose.Padmasana is one of the most recognizable Yoga poses,making Lotus Yoga pose is not easy for many people because most of them have gotten out of the habit of squatting and sitting on the floor,the good news is your hip mobility may improve over time after consistent practice,making Lotus possible.
YOGA POSE STATUE:This Meditation Yoga pose statue is sculptured with high quality resin material and painted under oriental technique.The tranquility Yoga pose statue is coating with Antique Silver color and showing a rustic antique appearance.
YOGA FIGURINES:This meditative Yoga figurine is approximate 3.5"x2.1"x1.3".Each Meditation Yoga figurine is under handmade and may contain variations in appearance,which is the part of artistic appeal and will enhance the unique beauty of each Yoga figurines.Package included:A set Yoga pose statue ( 3 pieces ).
MEDITATION DÉCOR:The Meditation Yoga figurine is perfect to display in Zen accessories,Yoga room,Meditation room,Bedroom,work office,shelf or windowsill,with spreading a tranquil and peace atmosphere in your spiritual room décor.
GREAT YOGA GIFT:The Meditation décor figurine is well package for any occations,such as birthday,wedding,celebrations or anniversary.It is a perfect collection for Yoga instructor,Yoga lover,meditation lover,Buddhist,families and friends.
CUSTOMER EXPERIENCE:Each Yoga figurines are well wrapped in soft polyfoam which will protect the meditation Yoga statue safe during the transportation.Leekung cares about your satisfaction,we will guarantee 100% return and refund for any dissatisfaction.
home decoration,#Leekung #Yoga #Meditation #décorYoga #Pose #Statue #Home #DecorationZen #Yoga #Figurine #Spiritual #Room #décorSet #Yoga #Gift #Antique #Silver #Color