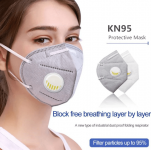 Expired
KN95 Respirator mask Polution Anti Dust Mask with valve Safety Protective Reusable Non-medical Mask – China 2 PCS

Features: 
KN95 folding dust mask with valve (Comfort and safety).
High filter efficiency (Filter effect ≥95%, ).
Hive-fold filterting (6 protective filter layers).
Hight quality breathable fabric.
Cold flow breathing valve.
Available multiple times.
Block any harmful substances (pollen,cement,heavy metal,bacteria,soot,virus,asbestos,mould) For occupational protection of particulate matter, the filtration efficiency is above 95%.