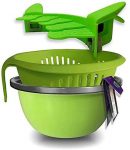 Kitchen Colander Set Of 3-Includes Spaghetti Strainer,Vegetable Washing Basket,Strainer Bowl 4qt.for Fruits Vegetable Cleaning Washing Mixing, Green

Price:

$19.99




Product Description
Colanders

It Has Holes That Are a Bit Larger Than MuOther Kitchen Strainers,Would Be Great for Washing/rinsing Veggies,fruit.The bottom of the colander has legs, which will not stain the food.Colander with handshake for easy handling.The base of the big lips is easy to carry.
Use It for Pasta, Draining Ground Beef,Beans, Everything!Drain It More Completely Than Using aLid or Colander.Can be folded and stored without taking up too much kitchen space.Holds pots and pans with a large lip.Perfect for all different sizes and thicknesses of pots and pans.
Mixing Bowl

High quality stainless steel product.Versatile, you will use it a lot in the kitchen.Great for Mix Stuff Like Salads or Any Other Cooking Materials Lake Cake Mix,etc.
🍝 SOLVE ALL YOUR KITCHEN COLANDER PROBLEMS:The patented 3-piece colander and bowl sets meets all of a chef's colander container requirements, without the need for additional collendar
🍝 NEWLY DESIGNED KITCHEN STRAINERS PLASTIC for the AMERICAN HOME: colander bowl set for easy storage, simply strained clip-on strainer to hold pans with "lips" up to 2.4 inches.they bring a new experience to your kitchen life.
🍝 SPACE-SAVING NESTABLE DESIGN: Ergonomic,colanders with handle(6mm aperture),collendar drainer nest together in a 10.3″ Stainless steel basin, which can be stored in your deep drawer , not taking up too much space in your kitchen.
🍝 HIGH QUALITY PASTA STRAINER:Cut fruit bowl with strainer is made of high quality BPA-free food-grade PP material for durability, and the salad wash bowl is made of high quality stainless steel that will not rust and is dishwasher safe, we are committed to providing you with a safe and reliable kitchen life.
🍝 GREAT APPEARANCE:Our colorful fruit washer strainer will dress up your kitchen and make a great gift for your friends.
home gadgets,#Kitchen #Colander #Set #3Includes #Spaghetti #StrainerVegetable #Washing #BasketStrainer #Bowl #4qtfor #Fruits #Vegetable #Cleaning #Washing #Mixing #Green