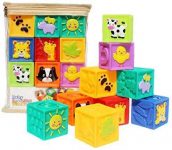 Kingtree Baby Blocks (Set of 9), Squeeze Building Blocks Soft Stacking Baby Toys for 6 Months and up, Colorful Teething Chewing Educational Stacking Blocks Set with Numbers Animals Shapes Textures

Price:

$18.99




Product Description
BPA-FREE Food Grade Material

Made of food-grade silicone with BPA and phthalates free, non-toxic and odorless, safe for baby teething chewing.Soft enough to be squeezed without sharp edge and corners, safe for baby to grasp.These blocks have passed strict quality inspections which are 100% safe for children to play!
Colorful 3D Embossed Patterns

Soft texture, includes numbers, animals and other cartoon graphics that cater to baby preferences.Multi vivid "baby colors" are easy to catch baby's eye as well as let them fall in love at first sight.Conducive to the baby's tactile and visual development.
Funny BiBi Squeak Sound Feature

Easy to squeeze to make "BiBi…" squeaking sound.Help to attract baby's attention and provide endless sound playing fun.Conducive to the baby's auditory development.
Perfect Small Size for Baby Grasp

Each block size is 2.16*2.16*2.16 inches, perfect for baby's little hands to grab.Conducive to training baby's hand-grip ability.Lightweight but also can help strengthen the baby's hand strength.
Funny Bath Blocks Toy
Light weight, can float on the water.Squeeze to spray water.
Support Boiled to Disinfected
100℃ high temperature boiled without deformation, no fading.Note: please do not boil them for a long time.
100% Recyclable Storage Bag
Exquisite packaging which is a perfect gift choice.Portable and convenient for easy storage.
Brand
KINGTREE
KINGTREE
KINGTREE
KINGTREE
KINGTREE
KINGTREE
Theme
Soft Stacking Blocks
Soft Matching Blockss
Soft Number & Alphabetic Books
Wooden Spelling Toys
Soft Cognition Teaching Book
Soft Cognition Teaching Book
Material
Food-grade Silicone
Food-grade Silicone
Pure Cotton Fabric
Wood
Pure Cotton Fabric
Pure Cotton Fabric
Non-toxic
✓
✓
✓
✓
✓
✓
BPA-free
✓
✓
✓
✓
✓
✓
Teething
✓
✓
✓
NO
✓
✓
Recommend Ages
Over 6 months
Over 6 months
Over 6 months
Over 3-year-old
Over 6 months
Over 6 months
100% BPA-FREE SILICONE MATERIAL – These squeeze baby blocks are made of food-grade silicone material which is the same as the baby pacifier. 100% non-toxic and odorless that is safe for baby play, even teething. 100°C high temperature resistance, can be boiled to disinfect. (Note: Please do not boil too long time.)
POPULAR BABY TOYS – This is a very popular building blocks toy for babies 6 months and up. The cute 3D embossed patterns with various bright colors cater to the baby's preferences as well as easy to attract the baby's attention.
COLORFUL SQUEAK BLOCKS TOYS – These colorful stacking blocks are soft enough to be squeezed, each block has built-in sound generator which will create "BiBi…" sound when squeezed to add more fun to play. Suitable small size which is easy for infants' little hands to hold and stack.
SAFE BABY TEETHING TOYS – This squeeze building blocks set is made of environmentally soft silicone materials without any sharp edges and corners, have good toughness and safe for baby chewing to soothe their sensitive gums while teething.
EARLY EDUCATIONAL TOYS FOR INFANTS – There are 9 building blocks in this set, a variety of color combinations, each sides of the block has numbers, animals, or plants embossed patterns. Let the baby learn in play as well as develop their hand-eye coordination.
baby toys,#Kingtree #Baby #Blocks #Set #Squeeze #Building #Blocks #Soft #Stacking #Baby #Toys #Months #Colorful #Teething #Chewing #Educational #Stacking #Blocks #Set #Numbers #Animals #Shapes #Textures