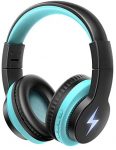 Kids Bluetooth Headphones Light Up, Jelly Comb Wireless/Wired Headphones with Noise Cancelling Microphone, Foldable Stereo Bass Headset, Volume Control Headset for Boys Girls Teens Child

Price:

$29.99




Product Description
Jelly Comb Kids Bluetooth Headphones with Breathable Lights

Advanced Bluetooth 5.0 Technology
Say Goodbye to Wired Headphones! Wander freely with Bluetooth 5.0 tech, you can feel free to do things around the house while you're listening. Once you done the matching, the on ear headphones will reconnect with your devices automatically.
Built in HD Microphone
Hands-free talk and super easy to control. Control forward/ backward/ play/ pause/ answer/ hangup, all without reaching for your phone!
Powerful Compatibility
The superior compatibility make you easy to connect with electronics devices with Bluetooth, such as cell phones, iPad, computer, laptop, tablets, etc.
Superior Soft Ear Pads
Made of plush leather, the headband is so superior soft that you might forget you are wearing headphones, while also being tough to break.
Adjustable Headband
Flexible headband of cordless headphones is perfect suitable not only for your kids aged 6 or above, but fit adult's head.
Foldable Design
Foldable design make it portable and convenient to carry. It is the best choice to put it in the suitcase and bag when taking your children out for school.
HIFI Excellent Sound
Heavy Bass headphone, enhancing the joy of listening, keep your child immersive in the world of music.
Cool Lightening Light
Fashion LED design, bring light to the music. Easy to switch between 3 light modes by one click. Kids will love the fun headphones!
Safe Volume Control
When your kids are taking plane or subway, just switch the volume to the 94dB to hear music more clearly. But never mind, even the max volume is far from hurting your kids' hearing.
【Safe Volume Control】Built in a volume limiter of 94 dB, better to protect hearing of your child.
【Wireless/ Wired Mode】 : Come with a 3.5MM audio cable, make you continue using headphones when the battery is run out.
【LED Light Up】The lightning logo looks 100% cool most especially, which can one button to adjust 3 kinds of light effects. You can choose to turn off the LED light for longer music playing.
【Wide Compatibility】Compatible with all electronics devices with Bluetooth, such as cell phones, iPad, computer, laptop, pc, tablets, etc.  Jelly Comb offers one year warranty and welcome guide.
wireless headphone,#Kids #Bluetooth #Headphones #Light #Jelly #Comb #WirelessWired #Headphones #Noise #Cancelling #Microphone #Foldable #Stereo #Bass #Headset #Volume #Control #Headset #Boys #Girls #Teens #Child