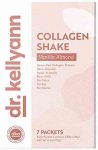 Keto Vanilla Almond Shakes – 100% Grass Fed Collagen Protein by Bone Broth Expert Dr. Kellyann – Gluten Free, Dairy Free, Soy Free, Non-GMO – Perfect for Keto, Paleo & Weight Loss Diets (7 Servings)

Price:

$27.99




Product Description
About Dr. Kellyann

Dr. Kellyann Petrucci, Creator of the Bone Broth Revolution, came to realize the ancient power of collagen and bone broth to heal the gut and slow aging while studying biological medicine at the Marion Foundation and Paracelsus Clinic, Switzerland. By focusing her practice on a lifestyle that stops and reverses inflammation, Dr. Kellyann is able to help patients and readers reduce dangerous belly fat to become slimmer, younger, and healthier.
About DKA

DKA at its core is all about creating simple solutions for leading a healthy lifestyle. All DKA products are Keto-friendly and Paleo-friendly, collagen-packed, helping you feel better from the inside out. We strive to create products and plans that fit your lifestyle.
Meet our Vanilla Collagen Shake

If you want a wonderful and refreshing pick me up throughout your day that also has amazing health benefits, you need my Vanilla Almond Collagen Shake. My collagen shakes help boost weight loss, stop sugar cravings, improve your skin and gut health, and help reduce joint pain. The best part? You can get all these health benefits at once, in a delicious drink.
Meet Dr. Kellyann
Meet the Brand
Meet our Vanilla Collagen Shake
About Dr. Kellyann's Vanilla Almond Collagen Shake

For a great-tasting mid-afternoon treat, Collagen Vanilla Almond Shake To Go is by far the most convenient way to get your daily dose of pure, grass-fed collagen, plus a complete mix of essential amino acids, and 15 grams of protein your body can actually absorb.
Dr. Kellyann created the Collagen Shake To Go drink mix as a unique "high impact" food for you: Someone who wants to heal, lose weight and see smoother skin even faster — that's the power of giving your body this extra collagen! It complements and is recommended for those living the Bone Broth Diet lifestyle, or for anyone who wants to greatly improve their health and look younger.
Now even the busiest person can QUICKLY make delicious highly nutritious protein shakes with the same potent fat-burning, cell-energizing collagen as bone broth. Comes in two great new flavors: Chocolate Almond and Vanilla Almond. Just add water, shake and enjoy! Or blend together with your favorite fruits and veggies if you'd like. For a richer, creamier shake, add non-dairy coconut milk or almond milk.
Great for your "after workout refuel", mix up a SLIM Shake to rebound after a workout, blend with your favorite fruits and veggies, or take with you to work and on vacation as a super-healthy meal replacement or satisfying snack that stops cravings on the spot.
Help yourself by curbing that sugar craving, and slay your sugar demon with the great taste of Vanilla Almond. Sweetened with Monk Fruit, which has no impact to blood sugar levels, and made without any artificial or unnecessary additives, this is the "cleanest" way to give your body an instant serving of gut-healing, fat-melting, wrinkle-blasting collagen everyday… plus 15 grams of protein in each packet!
Peachy Strawberry Shake Recipe

Ingredients:
1 packet Vanilla Almond Collagen Shake 1 cup almond milk, unsweetened A handful of fresh or frozen strawberries, about ½ cup1 small peach (pitted and sliced)½ to 1 teaspoon pure vanilla extract optional 1 tablespoon, ground flaxseed, optional 1 tablespoon chia seeds, optional Ice, optional
Directions: Place all ingredients in blender and blend until smooth and creamy. Optionally blend in a handful of ice cubes.
KETOGENIC – PALEO – WEIGHT LOSS SLIM SHAKES | Our slim collagen protein shakes are gluten free, dairy free, soy free. Perfect for keto, paleo and weight loss diets. 2g Fat, 15g Protein, 5g Carbs, less than 1g Sugar, 4g Fiber, 1g Net Carbs.
MINIMAL INGREDIENTS | Made with REAL, premium Non-GMO ingredients: Grass fed hydrolyzed collagen, Prebiotic fiber from chicory root, Almonds, Dried egg white, Coconut milk powder, Sea salt, Monk fruit extract.
REDUCE YOUR SUGAR CRAVINGS: Enjoy a vanilla collagen keto shake without the sugar or additives. Sweetened with monk fruit, this is the "cleanest" way to satisfy your sweet tooth without kicking out of ketosis.
7 KETO VANILLA COLLAGEN PACKETS | You'll get 7 vanilla almond collagen shake packets. Drink as a meal replacement, slim weight loss shake or bone broth collagen protein shake to refuel after a workout. Dissolves and mixes easily.
weight loss diet,#Keto #Vanilla #Almond #Shakes #Grass #Fed #Collagen #Protein #Bone #Broth #Expert #Kellyann #Gluten #Free #Dairy #Free #Soy #Free #NonGMO #Perfect #Keto #Paleo #Weight #Loss #Diets #Servings