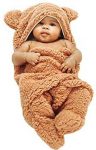 Kermode Cute Infant Swaddle Wrap with Bear Hoodie – Soft Plush Newborn Blanket – Boy & Girl Unisex Nursery Essential Item – Gender Neutral Baby Shower & Registry Gift Must Have – Brown,Large

Price: $17.99 - $16.95


Product Description
FROM THE MANUFACTURER

OUR SWADDLE WRAP ALLOWS YOUR BABY TO MOVE FREELY WHILE KEEPING HER PERFECTLY WRAPPED IN SOFTNESS & WARMTH.

Give your baby the gift of comfort with our baby swaddle wrap. Made of premium faux cashmere that delivers an incredibly soft and cozy experience. The wrap is designed to allow your baby the freedom to kick and move as she pleases without getting kicked off.
Whether you need a plush swaddle wrap for your little bundle of joy, a wearable blanket that stays in place as she plays, a warm hooded sweater for the cool outdoors, a soft and comfortable sleeping bag, or a super cute outfit for her baby photos, the Kermode Baby Swaddle Wrap provides the all in one solution.
Separate leg design, soft, fluffy material, no tail design, and bear ears hoodie will ensure that your adorable teddy bear will stay warm and comfortable regardless of what she's doing throughout her day.
So mama bear can spend less time worrying about her child's comfort, and have more time to snuggle. As a matter of fact, she'll feel so soft, that's all you're going to want to do.
THE PLUSH, SOFT WRAP WILL HELP YOUR BABY TO FEEL MORE COZY AND SECURE AS SHE SLEEPS.

MADE WITH YOUR BABY'S COMFORT IN MIND. WARM, PLUSH MATERIAL, NO TAIL DESIGN, SEPARATE LEG POCKETS, LIGHTWEIGHT & BREATHABLE FABRIC.

Premium Faux Cashmere – Our baby swaddle wrap is made of premium faux cashmere that is made to provide incredible softness and warmth for your baby.
Separate Feet Design – Designed to allow your baby complete freedom to move his legs freely without getting kicked off.
No-tail design – Designed to provide maximum comfort when your baby is on his back.
Lightweight & Breathable – Inner and outer fabric is made of lightweight and breathable material to keep baby's body warm and snug without overheating.
Soft Inner Fabric – Inner fabric is made of soft and breathable polyester and is super gentle on a baby's delicate skin.
Bear Ear Hoodie Design – Fluffy ears hoodie design not only makes it a great costume outfit to take the cutest photos of your newborn but also helps to protect him from the wind and cold while he is outdoors.
Multiple Velcro Placements – Velcro placements on both sides of the hips, and at the front ensure a more secure fit and makes it super easy for you to quickly wrap your baby.
Unisex Design – Our swaddle wrap is designed to look great on both boys and girls. The beautiful neutral gender color and furry fabric material will turn your baby into the cutest baby bear in the neighborhood.
WRAP YOUR BABY IN COMFORT WITH OUR IRRESISTIBLY CUTE TEDDY BEAR WRAP. SHE'LL BE SO ADORABLY SOFT, ALL YOU'LL WANT TO DO IS CUDDLE HER.

MADE TO BE MULTI-USE. GREAT AS A SWADDLE WRAP, SLEEPING BAG, WEARABLE BLANKET, OUTDOOR JACKET, PHOTO OUTFIT, WINTER SWEATER, & STROLLER WRAP.

Our Kermode swaddle wrap can be used for multiple purposes.
Whether you need a loose newborn swaddle wrap, a cozy and comfortable sleep sack, a soft plush wearable blanket, a trendy outdoor sweater, a warm stroller wrap, an adorable coming home outfit, a cute bear costume for your baby's photos, or a comfy baby sleeper.
Our baby swaddle wrap provides the all-in-one solution for all your needs.
NO MATTER WHAT YOUR BABY IS GOING THROUGH. OUR SWADDLE WRAP WILL HELP HER TO FEEL MORE COMFORTABLE, WARM AND SECURE.

THE PERFECT GIFT FOR NEWBORNS. UNISEX DESIGN & GENDER NEUTRAL COLOR MAKES IT A GREAT & EASY GIFT CHOICE FOR MANY OCCASIONS.

Our baby swaddle wrap makes ideal presents for many occasions.
The wrap makes an easy and excellent gift choice for baby shower, gender reveal & announcement, baby registry, baby's first hospital gift, and more.
Whether your friend is having a boy or girl, our gender neutral color and unisex design wrap will look great on all babies.
PERFECT FOR BABY SHOWERS, GENDER REVEAL PARTIES & BABY REGISTRIES.

AVAILABLE IN MULTIPLE SIZES FOR THE BEST FIT. GREAT FOR BABIES OF ALL SIZES. PERFECTLY SIZED TO FIT PREEMIES TO 5 MONTH OLDS.

Babies all comes in different shapes and sizes and there shouldn't be a one fit all size. That's why our wrap is available in 2 sizes to ensure a better fitting for your baby.
Size Small – Fits babies up to 21 inches tall. This size is ideal for preemies and small newborns.
Size Large – Fits babies up to 26 inches tall. This is a great size for babies 0 to 5 months old.
***Size recommendations are based on standard sizing. Please measure your baby's length for the best fit.***
HOW TO USE:

1. Center Baby on Wrap
Open swaddle wrap and place infant gently in the center of the wrap. Place hoodie over baby's head.
2. Insert Legs Inside
Insert infant legs inside both leg pockets. Secure the velcro on both sides of the hips. Press firmly on the velcro for a more secure hold.
3. Secure Front Velcro
Place both sides of the wrap over the infant's belly and secure the velcro at the front. Arms can be kept warm inside of the wrap when infant sleeps or on the outside for better movements when she is awake.
Extra Tip for Newborns
Our swaddle wrap is meant to fit comfortably around your baby while allowing her to move freely. If you have a newborn with startled reflux and needs to be wrapped more tightly. Consider wrapping your baby first with a thin swaddle blanket with both feet out. Then place our swaddle wrap on the outside for extra warmth and comfort.
Wrap your baby in comfort with our ultra soft swaddle wrap – Helps baby feel more cozy & secure – Made with plush faux cashmere for irresistible softness – Soft inner fabric is super gentle on baby's skin – A must have for all new mothers.
Keep your baby warm & comfortable while on the go – Multiple velcro placements ensure wrapping your baby is quick & easy – Separate leg pockets allow baby's legs to move freely without getting kicked off – No tail design provides maximum comfort when baby sleeps.
A perfect all-in-one item for all situations – Can be used as a loose receiving blanket, comfy swaddle wrap, cozy sleeping bag, plush stroller wrap, cute photo outfit, or just an adorable teddy bear costume – Perfect for a snuggle with your little angel.
Looks great on all babies – Natural gender neutral color & unisex design is perfect for both boys & girls – Available in multiple sizes to ensure the best fit – Ideal for preemies, newborns & up to 5 month olds.
Great gifts for new moms – Ideal & unique gift choice for baby showers, baby reveal parties, baby gift registries, or baby's first gift – Adorable present for new parents – A great add on to all soon-to-be mom's wish list.
baby gadgets,#Kermode #Cute #Infant #Swaddle #Wrap #Bear #Hoodie #Soft #Plush #Newborn #Blanket #Boy #Girl #Unisex #Nursery #Essential #Item #Gender #Neutral #Baby #Shower #Registry #Gift #BrownLarge