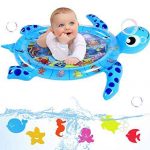 Infinno Tummy Time Mat Inflatable Baby Water Mat Baby Toys 3 6 9 12 Months for Infants Newborns and Toddlers Floor Activity Play Center, Strengthen Babies' Muscles in Daily Fun Time, Turtle, XLarge

Price: $19.97 - $16.97


Product Description
Why Choose US?

Made with premium quality and careMeet with US Children's Product StandardsLarger Size, Higher Quality, More ConfidenceUnique package design, Giftable!
BACK TO SLEEP, TUMMY TO PLAY

It's important for babies to have daily tummy time. It helps with their head and neck development and helps them build strength in their head, neck, arms, and shoulder muscles. This inflatable tummy time water mat is full of textures and colors for babies to discover. The water mat helps make tummy time a more comfortable and enjoyable experience while your baby takes in the world. Using all senses, baby will explore attractive floating toys and that will make your baby fall in love with tummy time, and your stress will also be reduced!
Bright Color and Premium Quality Material
This water splash pad play mat is constructed from HEAVY DUTY PVC that has been thoroughly tested and will NOT LEAK air or water PERIOD! Bright and attactive floating toys will be a hit for baby to discover.
EASY TO USE
Simply fill the outer ring with air and the inner mat with tap water (2/3 water is recommended), set it on the floor and let the fun begin! It can be foldsed easily so you can take it along anywhere you go. It may have plastic smell during first use due to PVC material, so let it air out for a few days.
Giftable Baby Water Mat
Premium quality of our baby water mat and the unique package design make it to become a great gift choice for baby ages 3 to 24 months. It is suitable for baby shower, baby birthday and Christmas gift.
Style
Tortoise-Blue
Tortoise-Green
Rectangle
Mermaid
Features
Promote your baby's sensory development
Promote your baby's sensory development
Promote your baby's sensory development
Promote your baby's sensory development
Size
40 x 33 inch
40 x 33 inch
26 x 20 inch
26 x 20 inch
Fit For
3-24 Months
3-24 Months
3-24 Months
3-24 Months
Gift package
✓
✓
✓
✓
Leakproof: The size of tummy time mat is 40 x 33 inch. It has reinforced sealing and two times of inflation tests before shipping out, these ways ensure that our mat will not leak.
Bright Color, Sea Creatures and Sensory: The wonderful sea world for your baby to explore. Bright colors, sharp contrast, cute floating sea creatures that will become eye catching to your baby as they play in tummy time and help stimulate your baby's developing visual and tactile senses.
Gross Motor: This mat will become your baby's supportive tummy time pal. As this infant gym mat helps your baby push up during tummy time, those little neck and core muscles are growing stronger.
Giftable Package: Shipped with a giftable package box, great choice for baby shower, Christmas etc.
baby toys,#Infinno #Tummy #Time #Mat #Inflatable #Baby #Water #Mat #Baby #Toys #Months #Infants #Newborns #Toddlers #Floor #Activity #Play #Center #Strengthen #Babies #Muscles #Daily #Fun #Time #Turtle #XLarge