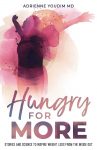 Hungry for More: Stories and Science to Inspire Weight Loss From the Inside Out

Price:

$9.99




Hunger
Hunger is emotional, hunger is spiritual, and hunger is universal. Overweight or not, our relationship with food is symbolic of our relationship with ourselves, and our hunger for food is symbolic of a deeper hunger that seeks to be understood. We are hungry for connection, for belonging, for understanding and for meaning.
For over fifteen years, Dr. Adrienne Youdim has guided hundreds of people through their weight loss journeys. Through her extensive clinical experience, she understands that weight loss is not just a matter of calories. A change in our relationship with food can have a rippling effect transforming every aspect of our lives. With a desire to help others navigate the same waters she encounters in patient interactions every day, Dr. Youdim shares personal and patient stories, medical commentary and scientific research to help us understand our hunger once and for all. Hungry for More, Stories and Science to Inspire Weight Loss from Within is a blend of story and science to get to the heart of what we are truly hungry for.
Follow along with her in this inspiring book as she and her clients discover the real triggers behind weight gain and how to conquer them for once and for all. These insightful, memorable essays on medical weight loss uncover the emotional and spiritual hunger behind our lifestyles and offer proven advice for overcoming them to achieve wellness and well-being. This inspirational and empowering book won't just help you lose a few pounds. It will fundamentally alter the way you look at yourself-in the mirror and beyond.


weight loss diet,#Hungry #Stories #Science #Inspire #Weight #Loss