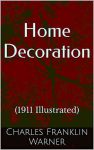 Home Decoration: (1911 Illustrated)

Price:

$2.99




Home Decoration by Charles Franklin Warner is a ready reference guide for all home improvement enthusiasts as Warner puts together a plethora of design and decoration techniques, ideas and implementation strategies for making a home a better place to live. Replete with illustrations and diagrams, Warner provides the perfect starting point for anyone who wishes to learn the art of home decoration.
The title of this work might be slightly misleading as home decoration alone is just one of the many aspects the author discusses. Spread across twelve chapters, he details out various elements of home improvement including decoration and furniture, fabrics, hand weaving, pottery as well as furniture making and finishing among others. Warner starts out with an introductory note on a model house built by young girls and boys. This very detailed narrative highlights all the intricacies that go into making the perfect house. These range from size and shape of rooms, woodwork, plumbing as well as construction techniques and tips.
The importance and appeal of well-constructed furniture is worth mentioning in Home Decoration as Warner provides deep insights into creating the perfect racks, stools and stands with calculated dimensions and easy to understand diagrams. Whether it is for a seasoned professional or the casual enthusiast, there is something for everybody in this handy guide. Written in fluid language, this book is a must for anyone who is curious to learn more about carpentry, decoration possibilities or just getting some odd jobs done for home improvement.


home decoration,#Home #Decoration #Illustrated