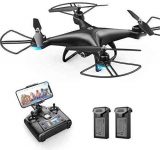 Holy Stone HS110D FPV RC Drone with 1080P HD Camera Live Video 120°Wide-Angle WiFi Quadcopter with Gravity Sensor, Voice Control, Gesture Control, Altitude Hold, Headless Mode, 3D Flip RTF 2 Batteries

Price:

$74.99




Product Description
Holy Stone HS110D FPV RC Drone with HD Camera 120° Wide-angle 1080P Live Video WiFi Quadcopter with Altitude Hold Headless Mode 3D Flips RTF

Fun Family Time

Gestures Control
Make gestures and the camera will start to work. Paper means recording Video ; Scissors means taking Photo.
Gravity Control
Gravity Sensor Mode allows the user to control the drone by holding and moving the smart phone accordingly.
Trajectory Flight
Draw a route on your app then the drone will fly along the path you set. Add much fun to your flight!
Record Your Moment

Live Video Feed with 1080P HD Camera
FPV real time transmission help you to see the beautiful and wonderful world in a special way.
Protection Guards
When the drone hits a wall or people, the guards can protect people and the drone itself.
2 Modular Batteries-20 Minutes
The 2 modular batteries is easy to charge and replace. It is also safer to charge it and last longer.
What You Get
1 x HS110D Drone
1 x Transmitter with 1 x Phone Holder(AA batteries are not included)
2 x 3.7V 1000mAh Li-po Modular Battery with 1 x USB Charging Cable
2 x Propeller Guards
4 x Extra Propeller Blades
2 x Extra Landing Feet
4 x Extra Motor Gears / 2 x Extra Light Covers / 18 x Screws / 1 x Screwdriver
1 x Manual
Specification
Quadcopter Weight: 145gDimensions: 12.6 * 12.6 * 4.70 inRecording Modes: 120° FOV 1080PPlaying Time: 10 mins each battery(2 Batteries)Charging Time: about 120 minsVideo Transmission Range: about 60m//196ftTransmitter Operation Range: about 100m/328ftApp Required Operating Systems: IOS 7.0or later/Android 4.4or later
SD CARD not included.
Please note the capacity of the SD CARD should NOT be larger than 32G.
1080P FOV 120° HD FPV Camera: You can capture memorable moments with distortion-free and view images on your phone from the wide-angel lens. The app enables you to expand your creativity further and share it on social media with ease.
Altitude Hold: When you focus on shooting images, you may set your hands off the joystick and the drone still suspend in mid-air with locked altitude. A perfect drone for beginners, kids, starters, or newbies to have a easy and stable flight experience.
Headless Mode: The pilot will feel easier to control, especially when the drone is out of sight, under headless mode while the orientation of the drone is in relation to the pilot. The drone are also equipped with 3D flips to make your day.
Mobile Control: Through the APP, multiple functions, Voice Control, Gestures Control, Trajectory Flight and Gravity Sensor Control can be activated. Instruct the camera to take photos by gestures of Scissor and videos by Paper.
2 Modular Battries: 2 batteries can support a 20 Minutes flight which makes it easy to replace battery and safe to charge battery.
camera,#Holy #Stone #HS110D #FPV #Drone #1080P #Camera #Live #Video #120WideAngle #WiFi #Quadcopter #Gravity #Sensor #Voice #Control #Gesture #Control #Altitude #Hold #Headless #Mode #Flip #RTF #Batteries