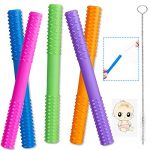 Hollow Teether Tubes, Honboom Soft Silicone Teething Tubes, 5 Pack Baby Soothing Teether Toy, Chew Straw Toy for Babies 0-12 Months with a Cleaning Brush, Dishwasher Safe (6.8in)

Price: $13.99 - $11.99


Product Description
Honboom Soft Baby Hollow Teether Tubes —— A good partner for baby teething
This soft teething tube is made of food-grade silicone, safe and non-toxic, BPA free. The two ends are uniquely designed to massage the baby's oral cavity with different textures, which can effectively relieve the baby's teething troubles, care for the baby's oral cavity, and soothe the baby's mood. Exercise the baby's perception of softness, hardness, color, sound, hand coordination, and promote intellectual development. Besides, it also can reduce the frequency of drooling during teething.
Easy to Clean
This baby soothing teether is hollow design. You can use the cleaning brush provided by us to rinse it under the faucet or put it in the dishwasher which doesn't need spend much time to clean. It is resistant to high and low temperatures, so please sterilize it in high temperature or refrigerator before use.
Soft but Durable
This baby teething chew toy is soft, durable and bendable, which exercises the baby's chewing and biting abilities. Made of high-quality food-grade silicone, it is soft and durable, effectively protects your baby's gums.
Can be Frozen and Heated Sterilized
The soft silicone teething tubes are resistant to high and low temperatures, which can be placed in the refrigerator or heated to sterilize. It has passed CPC certification, is safe and non-toxic, BPA free, can be used after disinfection. It will be a good gift for babies and help babies grow up healthily.
Protect the Oral Health of Your Babies!

The baby teething tube is specially designed for the budding baby. As a baby hand substitute, it can prevent the baby from eating hand addiction, eating the corner of the table or other objects, and the Q bullet will not hurt the gums, effectively alleviating the baby's teething anxiety and protecting the baby oral health make baby to grow up healthily and at ease.
Innovative Design – This baby teether tube adopts two different convex texture designs, both ends have different hardness, which can relieve teething irritation and massage the baby's oral cavity better.
Soft and Durable – Our baby teether tube is made of silicone material. Silicone teether is sturdy and durable, but soft and flexible, effectively protecting the baby's gums and preventing nail bites or thumb sucking.
Easy to Clean – Our baby teether tube is hollow and can be cleaned with the cleaning brush we provide with you. Cold and heat resistant (-50℃-230℃), dishwasher safe.
Easy to Grasp and Carry – the length of the teething tube is 6.8 inches. The weight is only 16.5g, can be used anytime, anywhere. And it is also convenient for the baby's little fingers to hold it. The colorful and easy-to-grip design helps them build agility and hand-eye coordination. Suitable for infants and young children aged 0-12 months.
baby toys,#Hollow #Teether #Tubes #Honboom #Soft #Silicone #Teething #Tubes #Pack #Baby #Soothing #Teether #Toy #Chew #Straw #Toy #Babies #Months #Cleaning #Brush #Dishwasher #Safe #68in