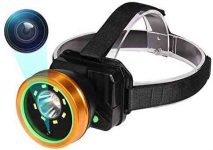 Headlamp Body Camera with audio, 1080P Wearable Body Mounted Camera Rechargeable IPX4 Waterproof vlogging camera for indoor, outdoor, Camping, Hiking, Fishing with Night Vision.

Price:

$49.99




Product Description
When you hiking at night time and find something special, do you want to illuminate it and shot these novelty? When you repair parts under the car, are you bother with the dark light of the bottom of the car? Are you worried about repairing the car while holding a mobile phone recording repairing steps? Are you anxious about your poor memory that you often forget what you did in the last step while doing an DIY experiment? KSADBOSSBO 1080p headlamp body worn camera can fulfill your needs. Lighting up your life, letting you out of the dark while retaining the beautiful moments during dark time. This Body cam will let you find unexpected surprises.
IPX-4 WATER RESISTANT
Protected against splashing or spraying water from any angle, no need to worry about rains, snow. Pivoting head with IPX-4 WATER RESISTANT can be convenient for you to light different harsh conditions. Helpful vlogging camera with 4000mAh Battery Capacity for camping, caving, climbing, mountaineering, fishing, hunting, car repairing, DIY works or harsh emergency.
Do not point the camera lens to the direct sun light or permanent damage may occur.
Keep away from fire. Never expose the device to any fire source.
Specifications:

Waterproof Level :IPX-4 WATER RESISTANT
Irradiation distance :300m
Video Resolution/Frames :1920*1080P/30fps
LED Working modes :2 Modes
Battery Capacity :4000mAh
Rec Battery Life :About 26 hours
All light + Rec Battery life :About 5 hours
Auxiliary light + Rec Battery life :About 7 hours
HD 1080P Camera
Not only about bright life, safe feeling, also about Freestyle Life! Record your outdoor life with 72 wide degree anytime, anywhere, and when you need lighting and video, this 1080P outdoor potable home camera is exactly what you want with 5 hours woring time at night and 26 hours working time at day, this Multi-Funcational hiking sports camera is prepared to adjust to a full range of lighting needs, change key light mode to the auxiliary light mode or record mode just in a second with a button. Capture the gorgeous sense and leave these moment by your headlamp camera foever.
Night Vision
With KSADBOSSBO 90° HD outdoor camera with , you can have a reliable, hands-free high definition images in wider range during night with IR LED lights without infrared visible red light to brighten up your environment, ergonomically designed elastic portable headband leaving you free to work, read, and explore whenever and wherever you want, give you the most comfortable fit, for ultimate dependability.
Completely Accessories
Equip with 4 pieces of cap hooks which could secure the camera to your helmet, Support up to 128GB Memory Card (not included) it'll be the only waterproof body mounted camera you'll need – from your lantern while camping in the great outdoors, to a hard hat light, to a bike helmet light, and beyond !
🏃‍🏃‍Base on a 4000mAh high-capacity rechargeable lithium battery, it can work continuously for 5-26 hours and feature with a maximum light range of 300m/984.2ft.
🏃‍🏃‍The IPX-4 level of water resistance and portable integrated design are the ideal headlamp accessories for runners and outdoor adventurers.
🏃‍🏃‍Ultra HD 1920×1080 recording with maximum 30FPS frames can give you a clear image, which convenient to record moments in places you pass.
🏃‍🏃‍This outdoor adjustable camera is a high-brightness head-mounted camera gives you the freedom to direct light exactly where you need it – even in tight spaces. Quickly choose from 2 lighting modes. (All Light Mode or Auxiliary Light Mode) which supports in Security Guard, Garden maintenance, Home, Bike, Hiking, exploring, plus an all-in-one recording mode to record every moment.
🏃‍🏃‍This headlamp camera not only supports 7×24 hours all-day charging while recording with audio but also supports maximum 128GB memory card(Excluding).
portable camera,#Headlamp #Body #Camera #audio #1080P #Wearable #Body #Mounted #Camera #Rechargeable #IPX4 #Waterproof #vlogging #camera #indoor #outdoor #Camping #Hiking #Fishing #Night #Vision