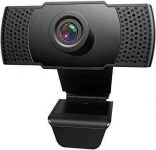 HD 1080P Webcam with Microphone USB Webcam for PC/Desktop/Laptop/Mac/TV Streaming Computer Web Camera for Video Calling Recording Zoom Meetings Autofocus Webcam Compatible with Mac OS Windows

Price:

$27.86




High quality 1080P HD Webcam with Microphone, USB Computer PC Camera with clear sound, smooth video and premium quality image, Plug and Play, easy to use.
Full 1080p HD Webcam
the perfect choice for enhancing your chatting and video conference experience. Talk freely with the built-in stereo microphone with crystal clear voice quality. Plus, the glass lens provides vastly improved image quality – smoother video, sharper pictures, richer colors, and clearer sound in real-world conditions.
🔔FEATURES:
➤Plug & Play, with Mic, Video Recording
➤High quality with exquisite appearance
➤HD video, clear and smooth
➤High definition with 1080P and true color images
➤Adjustable bracket and stationary clip
➤Optical lens, high precision and no distorted pictures
➤Wide compatibility for laptop, computer, desktop and more devices
➤Compatible with USB 2.0/3.0
➤Auto white balance, auto color correction
➤Wide using scenes for telework, online classes, conference, gaming, live streaming, etc.
➤5 layer glass coated lens
🔔Specification:
Name: 1080P HD USB webcam
Color:Black
DSP chip: Driverless
Dynamic resolution:1920*1080
High defintion: 2 million pixels
Focus mode: Manual focus
Frame rate: 30fps
Interface: USB2.0
Item size: 9.5*8.2*5.4cm(L*W*H)
Item weigh Approx : 130g
🔔Webcam Package
– 1 x Webcam
– 1 x Manual
– 1 x Box
👑【Full HD 1080P Webcam】- High-definition 1080P Webcam. Enjoy high-quality 1920*1080P HD widescreen online video chat, true-to-life HD video captures the most exciting details, and picture quality is realistic and pure. Delivers sharp, smooth video for chats,taking pictures and recordings.
👑【Webcam with Build-in Microphone】- Built-in microphones with automatic noise reduction make the sound purer and clearer, superior stereo audio, which allow clear and natural sound. It is the best choice of remote teaching to output sound clearly. Great for webinars, video conferencing, live streaming, etc.
👑【Easy Set up, USB Webcam & Plug and Play】- Usb 2.0 connector. This USB webcam is very easy to use, just Plug and Play, NO additional driver required. Work with PC, notebook, laptop, desktop which has USB port.Simply connect this HD web camera 1080p to your computer.
👑【Best Universal Compatibility】- Support Windows 2000 / XP / Win7 / Win8 / Win10 / Vista 32bit, Android TV. Platform Compatibility Skype, Youtube, [email protected], MSN, Zoom, Windows [email protected], Gmail, Android IPTV etc instant messaging applications.
👑【Easy to Use & Flexible Placement】- Mount the USB office conference camera on your LCD screen. With a rotatable clip, you can mount the usb web camera on any device, such us laptop, tripod, desktop, computers, LCD monitor and even just put it on a desk.
camera for laptop,#1080P #Webcam #Microphone #USB #Webcam #PCDesktopLaptopMacTV #Streaming #Computer #Web #Camera #Video #Calling #Recording #Zoom #Meetings #Autofocus #Webcam #Compatible #Mac #Windows