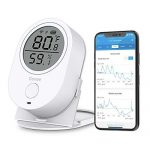 Govee Bluetooth Thermometer Hygrometer, Indoor Digital Humidity Temperature Monitor with APP Alert, 2 Year Data Record and Export, for Room Greenhouse and Incubator Humidor

Price:

$15.99




Product Description
Bluetooth-enabled
Up to 196ft/60m range (no obstacles) allows you to clearly know your home environment on Govee Home app. Easily hold the data record in the palm.
Notification Alert
App pushes you alert notifications once data is out of the preset range. Ensure your baby lives in a comfortable nursery all the time.
Store and Export Data
Support storing temperature and humidity data for 2 years in Cloud. Plus, you can export them in CSV format whenever you want.
Remote Control
Bluetooth
Bluetooth
Bluetooth
Bluetooth
Bluetooth
Wifi
Coverage Range
230ft
230ft
230ft
262ft
196ft
No Distance Limit
Accuracy
Temperature:±0.54℉/Humidity:±3%RH
Temperature:±0.54℉/Humidity:±3%RH
Temperature:±0.54℉/Humidity:±3%RH
Temperature:±0.54℉/Humidity:±3%RH
Temperature:±0.54℉/Humidity:±3%RH
Temperature:±0.54℉/Humidity:±3%RH
Temperature Range
-4℉-140℉(-20℃-60℃)
-4℉-140℉(-20℃-60℃)
-4℉-140℉(-20℃-60℃)
-4℉-140℉(-20℃-60℃)
-4℉-140℉(-20℃-60℃)
-4℉-140℉(-20℃-60℃)
Size
2.4 x 2.4 x 0.74 inches
2.28 x 2.44 x 0.75 inches
2.05 x 2.05 x 0.4 inches
1.57 x 1.57 x 0.67 inches
4.8 x 4 x 1.45 inches
3.01 x 2.06 x 0.9 inches
196Ft Wide Bluetooth Covering Range: Detecting range is up to 196 feet without obstructions. You can track the data remotely via Bluetooth on the Govee Home App within this distance.
Smart App Alerts: Set preset temp and humidity ranges with the Govee Home App, and if levels fall out of that range, you'll receive a notification instantly. Respond faster to changes in your cellar, basement or terrarium.
Accuracy: With a built-in Swiss-made sensor, the temperature is accurate to ±0.54°F and humidity is ±3%RH. Enjoy precise data from the govee bluetooth temperature and humidity monitor every 2 seconds.
Two Display Methods: This device is designed with mini round LCD screen. You can check the current temperature humidity on LCD display, or you can get current and historic data via APP.
2 Year Data Record and Export: Wireless room humidity temperature monitor can record data up to 32000 data pieces of 2 years and synchronize to your phone via Bluetooth. You can export data to CSV format at any time.
baby gadgets,#Govee #Bluetooth #Thermometer #Hygrometer #Indoor #Digital #Humidity #Temperature #Monitor #APP #Alert #Year #Data #Record #Export #Room #Greenhouse #Incubator #Humidor