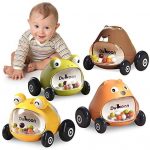 GILOBABY Baby Car Toys for 1 2 3 Year Old Toddler Baby Boy Girl 4 Pack Push and Go Mini Animals Cartoon Cars Toy, Educational Preschool Learning Color Vehicle Playset

Price:

$19.99




Product Description
Push and Go Car

Each baby toy car is inertial powered, no batteries required, just put them on smooth flat ground and push slightly forward or backward, then they will go on their own for a distance.
Why Choose Us?
Material: Premium ABS Plastic
Package: 4 Friction Powered Cars in one color box.
Recommended for babies and toddlers 18M+
Early Educational Toys for Toddlers Boys Girls Kids

Animal Toy Cars
The toddler toy cars include 4 different types of animal, such as bee, frog, bear and tiger. Adorable cartoon animal designs with vibrant colors help kids learn about different kinds of animal, stimulate their curiosity and promote recognition ability.
Rattle Toy
Shake it and make sounds to attract your babies' attention, these baby car toys can be used as rattle toys to bring much fun for your baby.
Safe Material
Material: Premium ABS.
Exquisite appearance design, fine workmanship and rounded edge that make these friction cars safe for toddlers.
Great Gift for Your Baby

【Push and Go Car Toys】Each animals car is inertial power. No battery needed. Energy saving and environmental friendly. They can go a long distance with just a slight push.
【Improving Ability】These toddler toy cars with vivid color, different shapes and colors can help your baby recognize new things and stimulate their visual development, great for early development.
【Animal Toy Car】4 types of animal: Brown bear, tiger, frog, bee. Teach children to recognize animals, stimulates kids' recognition and imagination.
【Perfect Size for Kids】Little car can shake to make sound as a rattle toy to attract baby. Good size and smooth edge easy for small hands to grip. Exercise your child's fine finger skills.
【Gifts for Cars Lovers】Toddlers could have a race game with a lot of fun. A great choice for birthday gift. Christmas gift for 2, 3, 4 year olds kids or all other holidays for energetic children and car lovers.
baby toys,#GILOBABY #Baby #Car #Toys #Year #Toddler #Baby #Boy #Girl #Pack #Push #Mini #Animals #Cartoon #Cars #Toy #Educational #Preschool #Learning #Color #Vehicle #Playset