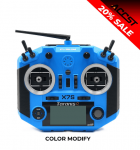 Expired
FrSky Taranis Q X7S with M7 Hall Sensor Gimbal 16 Channels Transmitter (Old Version with ACCST System)

This is a lightweight component stuffed solid framework and now it likewise arrives in a blue shading plan. The radio incorporates a Haptic Vibration Feedback System which gives an elective criticism framework to the voice and sound ready alerts. This 16 channel radio has the overhauled metal roller corridor sensor gimbals and is stacked with six redesigned switches and two handles. It runs on OpenTX and records can be imparted to the well known X9D Plus. The MicroSD card opening offers boundless model memory alternatives, it likewise has a USB port for redesigns and to interface with a PC for changing settings.
Perhaps the best component of the Taranis Q X7S is its full telemetry capacity, just as RSSI signal quality criticism. Haggle enter button makes exploring the illuminated menu simple and exact. Outfitted with a sound jack yield and mentor port also. Moreover, the Taranis Q X7S likewise bolsters the remote mentor work. Furthermore, obviously a module straight for use with JR-type modules that can be utilized with other convention collectors and with the utilization of a FrSky XJT module.
This radio can uphold up to 32-channels. Different highlights incorporate Receiver Match, Real-Time Flight Data Logging and Super Low Latency for accuracy flying. Generally speaking this Radio has the highlights of more costly transmitters at an exceptional worth.
FEATURES
Hall sensor M7 gimbal
Receiver match
Support wireless trainer function
Audio speech outputs (values, alarms, settings, etc.)
Real-time flight data logging
Receiver signal strength indicator (RSSI) alerts
Inbuilt wireless trainer system
Super low latency
Vibration alerts
Model files are compatible with TARANIS X9D/X9D Plus/X9E/X7.
Open source firmware OpenTX installed.
Support connect the Free Link App for telemetry
SPECIFICATIONS
Operating Voltage Range: 6.5~15V (2S, 3S Lipos are acceptable)
Operating Current : [email protected]
Number of Channels :16 channels (up to 32 channels)
Operating Temperature Range: -10~60℃
Backlight LCD Screen :128*64 outdoor readable LCD
Model Memories :60 (extendable by MicroSD (TF) card)
Compatibility:FrSky receivers in the D8/D16/LR12 mode,Taranis Q X7S-EU version is not compatible with D8 mode.
Including:
1 x Taranis Q X7S
1 x Gimbal Protector
1 x Battery
1 x FCX07 Charger
1 x Logo Sticker
1 x Back Strap
1 x EVA Bag