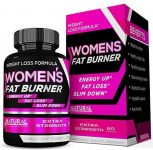 Fat Burner Thermogenic Weight Loss Diet Pills That Work Fast for Women 6 – Weight Loss Supplements – Keto Friendly- Carb Blocker Appetite Suppressant

Price:

$15.90




STARTING TODAY: Reach Your Weight Loss Goals & Gain Superior Results Efficiently!
Our weight loss supplement will maximize your results by accelerating weight and fat loss while boosting your energy levels and providing all the natural health support you need.
Invest In The Top Quality Of A USA Made Women's Fat Burner By ADDNATURAL!
Coming to you in 60 capsules per container, our advanced weight loss formula is Non-GMO, Gluten Free, Vegetarian and boasts all natural ingredients like Apple Cider Vineger Powder, Raspberry Ketone, Green Tea Extract, African Mango and Green Seed Extract.
The purity and potency of our Women's Fat Burner supplement is ensured as it's proudly made in the USA .
Formulated for women, for best results take 2 veggie capsules once a day 20-30min before a meal with an 8oz glass of water.&nbs;
5+1 Reasons Why This Women's Fat Burner Supplement Is A Weight Loss Powerhouse You Should NOT Miss:
Stimulates fast fat burning
Promotes natural and healthy weight loss
Boosts your energy levels
Naturally suppresses appetite
Helps speed up your metabolism function
Boosts your self-confidence with fast results
You may now order with peace of mind, knowing that your satisfaction is 60–Day Money Back Guaranteed!
Add ADDNATURAL Women's Burner To Your Daily Diet & Gain A Perfect Weight Loss Ally! For Rewarding Results – Click "Add To Cart" Now.
A USA SUPPLEMENT YOU CAN TRUST: Our advanced weight formula Women's fat burner is proudly made in the USA using only the best quality ingredients to guarantee purity and potency. Invest in the safest and most effective fat burner supplement to reach your weight loss goals.
weight loss diet,#Fat #Burner #Thermogenic #Weight #Loss #Diet #Pills #Work #Fast #Women #Weight #Loss #Supplements #Keto #Friendly #Carb #Blocker #Appetite #Suppressant