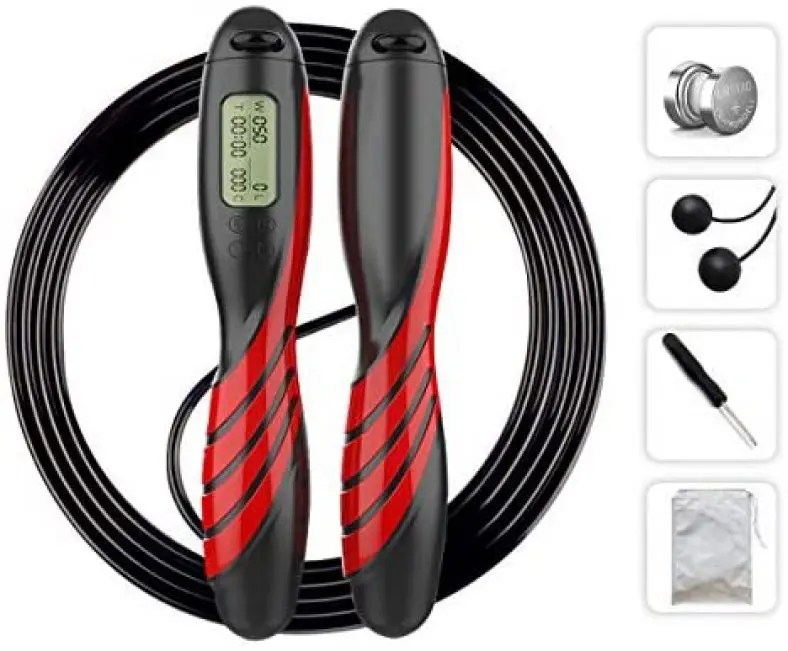 Electronic Counting Jump Rope, Fitness Rope with Calorie Counter, Adjustable Digital Jump Rope with Alarm Reminder, Speed Skipping Rope for Children, Adult, Indoor/Outdoor, Weight Loss Exercise, Red

Price:

$13.99




Product Description
Burning Calories & Losing Weight
Continuously jumping rope for 10 minutes is equivalent to 30 minutes of swimming or 50 minutes of yoga, and is drastically more affordable than gym equipment.
Continuously jumping rope is an efficient way to burn calories and lose weight. When you jump 200 times a minute, you burn 1,300 calories per hour, or 21 calories per minute.
High Performance Chip
This digital jump rope calculates exactly how many calories you burn based on the weight you put in. With sophisticated chip and upgraded electronic induction, counting is more accurate.
Dual-rope Configuration
In the cordless mode, you can enjoy the jump indoors and outdoors, even on the beach, and cordless keeps the sand from splashing up. It is also friendly to children who are not skilled at jumping rope.
In the rope mode, the 9.8 feet long rope meets most height requirements. It's easy to adjust to your desired length.
Strengthen the Body
Jumping rope helps the whole body move to improve human body organ development, muscle strength, and nervous system development all at the same time.
You no longer need to count all the time or lose track!
Specifications
Handle Length: 7inch/17.5cm
Long Rope Length: 113inch/290cm
Ball Rope Length: 10ft/25cm
Handle Material: ABS
Rope Material: PVC & Steel Wire
Color: Black and Red
Jump Rope for Fitness

Package Included
1 x Long Jump Rope
2 x Ball Jump Rope
2 x Batteries
(one is inside the handle,the other one is in the package box)
1 x Small Screwdriver
1 x User Manual
1 x Rope Bag
Features of This Jump Rope:
Precisely time, laps and calories counting
Weighted design for better fat burning effect
Dual-rope configuration
Adjustable rope length
Non-slip texture handle
Anti-winding 360° rotation
Provide a High Grip
The pvc rope with built-in steel wire is more wear-resistant, and hardly breaks even at low temperatures, reduces cracking and extends service life. Also maintains constant grip at the same time. The comfortable and durable rope makes you get the most out of your workout.
No Coiling or Tangling
360° low noise flexible rotation, eliminates tangling and coiling, ensures safety in fast rope skipping. The unique ergonomically and anti-slip designed handles offer perfect comfort hand feeling and providing firm grip you need to get the most out of your workout.
Better Hand Feeling
The handle with a small metal block weighs about 0.2 pounds. The right amount of weight gives you a better hand feel and exercise experience, allowing you to exercise you need without putting too much pressure on your hands. It's suitable for rope skipping enthusiasts, beginners and kids.
Indoor
✓
✓
✓
✓
✓
✓
Outdoor
✓
✓
✓
✓
✓
【SMART COUNT JUMPING ROPE】: The digital counting jump rope has a luminous led screen to display weight, laps, time and calories. With sophisticated chip and upgraded electronic induction, laps and calories counting are more accurate. Also, you can set either time or jumping reminder to get the target result.
【PROPER WEIGHT & DURABLE STEEL ROPE】: A small metal block is added to the handle of the jump rope with counter for a better fat burning effect and hand feeling. The PVC rope with built-in steel wire is more wear-resistant, and also maintains constant grip.
【CORDLESS JUMP/ADJUSTABLE ROPE JUMP】: This workout jump rope has a dual-rope configuration. In the ball rope, you can enjoy the jump workout wherever you want. And keep kids from tripping. The 9.8 feet long rope meets most height requirements, and it's easy to adjust to your desired length.
【EFFECTIVE FIYNESS】: Jumping rope for 10 minutes is equivalent to 30 minutes of swimming or 50 minutes of yoga, and is drastically more affordable than gym equipment. Continuously jumping rope is an efficient way to burn calories and lose weight. When you jump 200 times a minute, you burn 1,300 calories per hour, or 21 calories per minute. It's time to workout with the jump rope for your own sake!
【MAXIMUM COMFORT & SIMPLE INSTALLATION】: The element of non-slip texture and anti-winding 360° rotation bring you maximum comfort, also make this jump rope safer for children. You can simply install it as shown in the picture. In addition, we offer customer service within 7 x 24 hours and a 12-month warranty.
weight loss gadgets,#Electronic #Counting #Jump #Rope #Fitness #Rope #Calorie #Counter #Adjustable #Digital #Jump #Rope #Alarm #Reminder #Speed #Skipping #Rope #Children #Adult #IndoorOutdoor #Weight #Loss #Exercise #Red