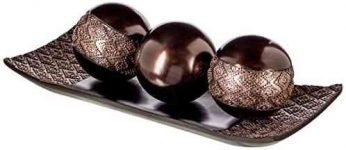 Dublin Home Decor Tray and Orbs Balls Set of 3 – Coffee Table Mantle Decor Centerpiece Bowl with Spheres House Decorations, Decorative Accents for Living Room or Dining Table, Gift Boxed (Brown)

Price: $44.99 - $31.35


The Exquisite Table Centerpieces You've Been Looking For
Elegant Touch
The Dublin collection accentuates your space with its rich coffee brown hue, metallic-looking sheen,
a striking mix of sharp & smooth lines, and a textured diamond shaped pattern that crowns
the one-of-a-kind look. Whether your home or office has a contemporary, rustic, or industrial décor,
these pieces blend right in with seamless elegance. The candle holder set includes a large (3.5″ x 3.5″ x 12″H)
and small (3.5″ x 3.5″ x 10″H) decorative candle holder, while the orb ball set comes with a lovely
(6.5″ x 15.5" x 2"H) decorative tray and three (4" x 4") decorated spheres.
Epitome of Quality
No more dealing with table centerpieces that quickly lose their luster, easily chip, or rust in no time. We've used
premium-grade materials to create home decor pieces that are impressively heavy,
and give off an expensive look and feel. These accent pieces make an affordable way to give any room a fabulous
face lift and they come packed in a lovely gift box to make for beautiful presentation.
UPDATE: We improved this tray by updating the mold, in order it should stay firm on the tray surface and not roll around.
Here's what makes this home décor set a great buy:
– Striking mix of color and design fits any décor.
– Made with great attention to detail for a beautiful finished look.
– The tray and candle holders have protective bottoms to prevent table scratches.
– The set is priced to give you great value for money.
– Gift boxed to make a great present right out of the box. Give your coffee table, dining room, or mantle an exquisite touch with a decorative centerpiece set that blends
aesthetics with superior quality. Click 'Add to Cart' now!
Accentuate Your Space: This Decorative Tray & Orb Ball Set Spruces Up Any Room with A Rusting Charm.
Extra-Durable: Heavy Resin Gives the Home Decor Balls and Tray a Premium Feel Without Risk of Rust.
Thoughtful Design: Bottom Protectors Protect Table Scratches, Special Holes Prevent the Balls Rolling.
Great Gift: The Decorative Orbs Set Comes in A Lovely Gift Box to Make for Memorable Presentation.
Best Value: You Get Three Decorative Sphere Balls and A Room Decor Tray at An Unbeatable Price.
home decoration,#Dublin #Home #Decor #Tray #Orbs #Balls #Set #Coffee #Table #Mantle #Decor #Centerpiece #Bowl #Spheres #House #Decorations #Decorative #Accents #Living #Room #Dining #Table #Gift #Boxed #Brown