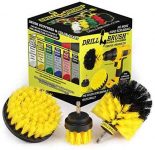 Drill Brush Attachment – Bathroom Surfaces Tub, Shower, Tile and Grout All Purpose Power Scrubber Cleaning Kit –Grout Drill Brush Set – Drill Brushes by Drill Brush Power Scrubber by Useful Products

Price: $18.95 - $14.95


Product Description
Stiffness
Soft
Medium
Medium
Medium
Stiff
Ultra Stiff
Kit Contents
White 4in, 2in, and Original
Yellow 4in, 2in, and Original
Green 4in, 2in, and Original
Blue 4in, 2in, and Original
Red 4in, 2in, and Original
Black 4in, 2in, and Original
Application
Home and Auto
Bathroom / all purpose
Kitchen
Marine
Outdoor
Heavy Duty
Yellow 2in in Action
The 2in brush is great for spot cleaning and detailing. Use it on small fixtures like faucets and overflow plates (pictured above) or remove small drops of soap and toothpaste from your sink.
Yellow 4in in Action
The 4in brush is built for flat surfaces. Clean the bottom of your tub, the counter around your sink, or even glass shower doors (pictured above.)
Yellow Original in Action
Tight corners are no problem for the Original brush. The bullet-shaped design can hit the corners of tubs, showers (pictured above), sinks, and more!
Transparency Program
This product uses Transparency. Products that are part of the transparency program will have a unique code that you can scan on the back of the box above the bar-code (pictured above) to verify their legitimacy. To check the authenticity of a Transparency product you can scan the code with the Transparency app or the Amazon mobile app.
This kit contains medium stiffness nylon power brushes that will attach to your favorite cordless drill
3 different sizes and shapes of brushes for cleaning around your bathroom surfaces
These nylon bristles will not scratch and can be used on tubs, sinks, baseboards, fiberglass shower enclosures, shower door tracks, and porcelain
all three brushes have quarter inch QUICK CHANGE shafts,Cordless drill NOT included Drill NOT included
All Drillbrush Products have a 90 day no questions asked Money back Guarantee. If you are not completely satisfied with our product we will issue a full refund or ship out a replacement at the buyer's request. Cordless Drill NOT included.
home gadgets,#Drill #Brush #Attachment #Bathroom #Surfaces #Tub #Shower #Tile #Grout #Purpose #Power #Scrubber #Cleaning #Kit #Grout #Drill #Brush #Set #Drill #Brushes #Drill #Brush #Power #Scrubber #Products