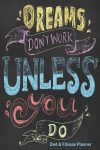 Dreams Don't Work Unless You Do Diet & Fitness Planner: Meal Planner And Fitness Tracker With Motivational Quotes (Simply Pretty Weight Loss Planners)

Price:

$6.99




NEW YEAR NEW YOU!
Whether your tracking your health, weight loss tracking or planning your workouts, keeping track of your meals, food, and workouts are vital to success! This planner has it all.
Weight Tracker
Weekly Meal Planner
Daily Food Tracker
Daily Workout Activity Tracker
Monthly Success Chart
Notes Pages for Feeling and Success Stories
Shopping List Pages
Daily Water Tracker
Small enough to carry in purse or travel bag but large enough to keep lots of notes and data. It's organized in a way that makes sense, with weekly meal plans at the beginning of each week then a daily food tracker and daily exercise tracker. At the end of the week, is a weekly review page to keep notes and track your progress. Then after the month, is a monthly review tracker and notes section as well.
Don't Wait Get Yours Today!
This planner can be use for any kind of diet plan:
Keto Diet Planner
Keto Food Tracker
Vegan Food Planner
Low Carb Diet
Low Fat Diet
Blood Type Diet
Apple Cider Diet
Mediterranean Diet
Hollywood Diet
Instant Pot Diet
Lady Boss Diet
Vegetarian Diet
Diet Zone
30 Day Diet
Atkins Diet
South Beach Diet
Autoimmune Diet
Arthritis Diet
Bulletproof Diet
Bone Broth Diet
Carnivore Diet
Cancer Diet
Dash Diet
Detox Diet
Every Other Day Diet
Fodmap Diet
Intermittent Diet
Flat Belly Diet
Gaps Diet
Gluten Free Diet
Hashimotos Healing Diet
HCG Diet
Insulin Resistance Diet
Paleo Diet
Primal Diet
Pegan Diet
Whole 30 Diet


weight loss,#Dreams #Dont #Work #Diet #Fitness #Planner #Meal #Planner #Fitness #Tracker #Motivational #Quotes #Simply #Pretty #Weight #Loss #Planners