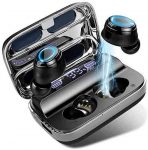 Donerton Wireless Earbuds, Bluetooth 5.0 Headphones 140 Hours Playtime Earphones with Charging Case, in Ear Headset IP7 Waterproof Earbuds Noise Cancelling Microphone, LCD Display, for Sports/Working

Price:

$45.99




Product Description
Ergonomical Design
Donerton I09 wireless bluetooth earbuds use the ergonomically designed with gel-flexible silicone earcaps to comfortably fit in your ear.
3 Pairs x Ear Caps(Size S/ M/ L, Please try different sizes Ear Caps first to exchange better experience.)
Advanced Bluetooth 5.0 Technology & PCB antenna
Advanced Bluetooth 5.0 Technology and PCB antenna material provides higher stable connection , rid of cord, enjoy real wireless. Audio won't cut in and out anymore, your music world will no longer be disturbed.
Hi-Fi Stereo Sound Quality
Adopting DSR lossless HD Rendering Technology that delivers deep bass and crystal crisp treble. Built-in high-definition microphone ensures call quality and stable transmission, gives you the perfect immersive sound.
Smart Touch Control
Features with touch control sensors, all the functions with just a gentle touch on the earbuds. Play, pause, skip song, pick up call and volume control all done by its smart touch sensors.
One step paring
Donerton ear buds with great compatibility, from Android, iOS or other, from phone, pad and more. Simple to pair by only 1 step and it will auto connect the device ever since.
IP7 Waterproof Earbuds
Nano-coating technology was applied to form a protective film on the surface of the headphones, they can easily prevent water from corroding internal chips. Perfect for running, sports, gym, skiing, etc. (not for swimming)
Up to 140 Hours Playtime: With a single charge for wireless headphones, you can listen for 5-6 hours. While the charging case extends to 140 hours, wireless headset can be charged up to 23 times. When you are in a hurry,simply charges 10 minutes and gets up to 1 hour of playtime. Donerton wireless earphones the ideal for your long trips.
Premium Stereo Sound with Powerful Bass: I09 noise cancelling headphones adopt 6 mm composite diaphragm and HiFi driver, ultra-thin elastic diaphragm and unique stereo design. Our stereo sound earbuds support SBC/AAC high-quality audio decoding, frequency response range reach 20-20khz, 2×more bass and 3D surround stereo, can provide a immersive sound for you.
IP7 Waterproof: I09 bluetooth earphones are certificated with IPX7 waterproof rating and nano-coating material, it can protects the headphones from heavy rains or sweat throughout exercises. Donerton waterproof earbuds will make an ideal companion while jogging, running, yoga, sports, gym, cycling etc.
PCB antenna and Bluetooth 5.0: The integrated PCB antenna of the satellite standard combined with Bluetooth 5.0 technology, ensures a stable wireless connection between your wireless bluetooth headphones and your cell phone. The signal strength and its influence range of Donerton bluetooth wireless earbuds is 2-3 times exceed than some other Bluetooth headphones.
wireless headphone,#Donerton #Wireless #Earbuds #Bluetooth #Headphones #Hours #Playtime #Earphones #Charging #Case #Ear #Headset #IP7 #Waterproof #Earbuds #Noise #Cancelling #Microphone #LCD #Display #SportsWorking