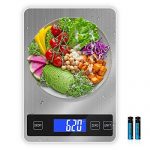 Digital Kitchen Scale, DEMALO 22lbs 5 Units Food Scale Weight Grams and Ounces with Tare Function, Large Panel Digital Scale with LCD Display, 1g/0.1oz Precise Graduation Scale for Baking, Cooking

Price:

$9.99




Product Description
The DEMALO digital scale is designed with sleek stainless steel, tempered glass and ABS plastic, and is equipped with a crystal LED display. It can measure solids, powders and liquids, with fast and accurate measurement sensing.
Great for home or office!
DEMALO Professinal Digital Kitchen Scale

DEMALO precision electronic scales can help you weigh ingredients in the kitchen, to ensure that baking and cooking recipes are followed closely. It can also weigh other objects for you when you need.
One-Button to Tare OffPrecise Measurement: 1g /0.1oz increments5 Unit Easy Conversion: g/kg/lb:oz/fl'oz/ml9″x6.3″ Large Platform for Convenient ReadMaximum measurement: 10kg/22lbsTouch-Sensitive Buttons for Easy UsePowered by 2*AAA batteries(included)
Please use the digital scale on a hard, flat surface, not on a soft or uneven surface.
Remove the batteries when they become weak or when the unit is not in use for extended periods.
The scale will auto-off in 120 seconds when there is no operation.
【Precise Weight Sensors】- DEMALO food scale measuring range 0.1oz to 22 lbs (1g to 10kg), 1g/0.1oz precise graduation. Using high-precision four-point sensor, high sensitivity, more accurate and fast measurement.
【5 Adjustable Units】- The 5 adjustable units are g, kg, lb, oz, and ml. Easily read all of your measurements on a crystal clear LCD display.
【Tare Function】- The "Zero" button is used to subtract the weight of the container, making it easy to achieve accurate readouts of objects.
【Large Panel】- 9″x6.3″ large panel kitchen digital scale are convenient for weighing items of different forms. Facilitate better cooking, baking, tracking intake and postage.
【Fine Craftship】- This kitchen scale is designed with tempered glass and ABS plastic for durable use, Anti-rust and easy to clean.
weight loss gadgets,#Digital #Kitchen #Scale #DEMALO #22lbs #Units #Food #Scale #Weight #Grams #Ounces #Tare #Function #Large #Panel #Digital #Scale #LCD #Display #1g01oz #Precise #Graduation #Scale #Baking #Cooking