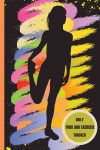 Daily Food And Exercise Tracker: Fitness And Nutrition Journal For Women – 100 Days To Record Your Fitness and Diet Goals, Workout, Weight Loss, Water Drinking, Measurements and More

Price:

$10.99




★Food And Fitness Journal – The Easiest Way to a Healthier, Better Fit Version of Yourself! Give It a try!
This Diet and Fitness Journal is an easy, fast, and efficient tool to track your daily meals, workout activities, water drinking, body measurements, and cardio stats – allowing you to monitor your progress and evaluate what you can change about your diet and daily routines.
This journal can be the beginning of a journey to a healthy new you!
✔Features:
The Starting Point – a page with the starting date, weight, measurements, and other stats you want to track
Goals Setting Page
100-day Food and Exercise Log
Meals(Time, Items, Serving, Cals, Sugar, Protein, Fiber, Carbs, Fat)
Exercise Table
Measurements table
Cardio(exercise, time, intensity, cals)
Weekly Habit Tracker where you can color your accomplishments for colorful and clear results
Water tracker
Spaces for Notes
✔Details:
Travel Size 6×9 inches(15.25×22.85 cm)
114 Pages
Printed on white quality paper
Premium matte cover
Get your copy now and start the journey for a healthier life!


weight loss diet,#Daily #Food #Exercise #Tracker #Fitness #Nutrition #Journal #Women #Days #Record #Fitness #Diet #Goals #Workout #Weight #Loss #Water #Drinking #Measurements