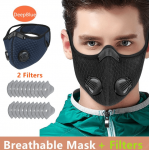 Expired
Cycling Face Mask Activated Carbon Windproof DustProof Lightweight Breathable Sportswear Mask – China 1PCS DeepBlue Mask and 2PCS Filters

Elastic Ear Loop & Adjustable Nose Clip: The anti-pollution mouth cover with the elastic, adjustable ear-loop strap, it is comfortable to wear and not easy to slip. The adjustable nose clip could help you to secure the face covers in place.
Safety Protection: The reusable washable cover could help you to protect against splashes. And it will stop you from touching your face.
Reusable & Widely-Used: The Balaclavas is made of a fiber mesh that is over the top of the filters. You could wash material and it dries quickly. Ideal for cycling, riding, hiking, running, gardening.
Low Breathing Resistance: Rapid exhalation valves with a plurality of holes, double air breathing valve, offer maximum ventilation without sacrificing filtration. And it is very easy to replace the activated carbon filters.