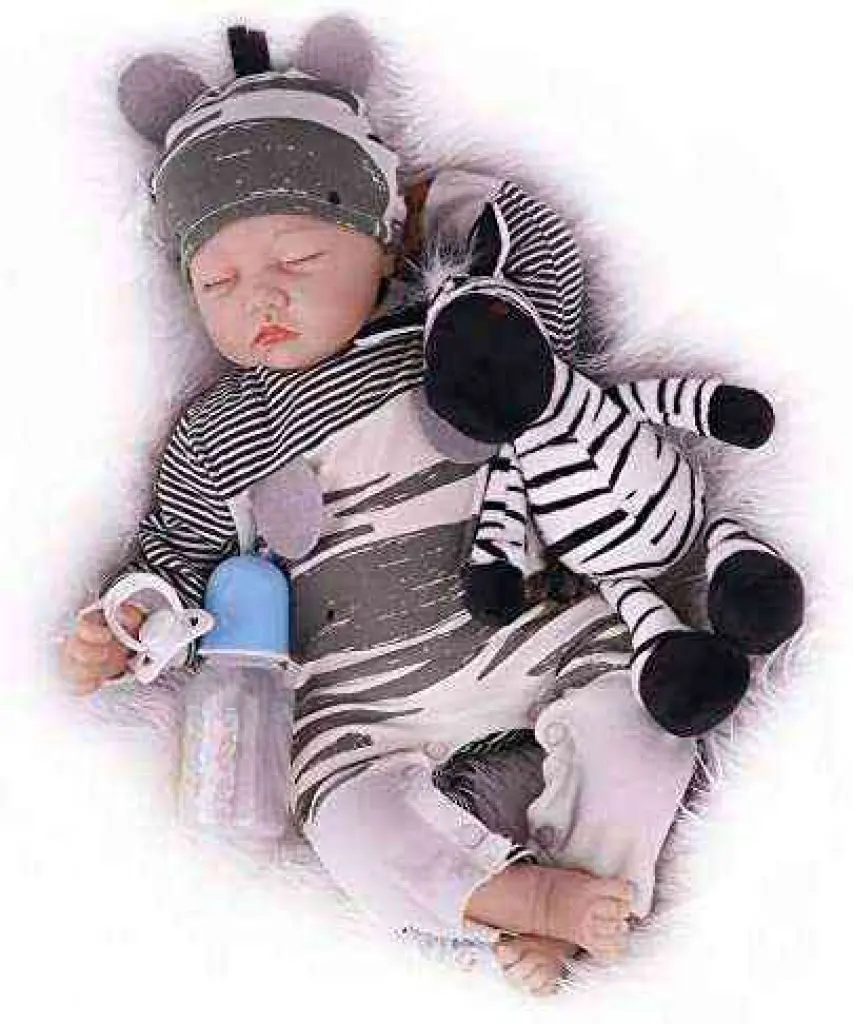 CHAREX Sleeping Reborn Baby Doll, Realistic Baby Dolls, Lifelike Weighted Reborn Baby with Soft Toy for Boys Age 3+

Price: $89.99 - $70.99


Product Description
CHAREX is specialized in producing dolls and accessories, we are dedicated to offer lovers and collectors around the world innovative and realistic reborn dolls. Our passion is to create dolls accompany with children, warm your heart and heal the soul. We adopt safety material, give you the best experience.
This realistic doll is coming with the zebra suit and hat, looking like a real baby angel.
He comes with a Magnetic Pacifier, Feeding bottle and a zebra Toy, your little babies can play with it seeing it as real friend.
This adorable doll is stuffed PP cotton and glass beads body, 3.4 lbs weights like a real baby. Perfect size and weight for kids to carry around and pretend play!
Newborn realistic baby

This realistic doll with beautiful zebra suit with hat, looks just like a real cute baby angel.
Touching reborn baby doll will warm your heart and make your family members happy.
CHAREX lifelike baby doll

She has beautiful hand painted details, hand applied eyelashes and rosy cheeks. The warm and humid lips look natural and soft that you can't help to kiss. These details make this baby extremely like a real baby!
Baby reborn that looks real

This baby is 22" from head to toe, the perfect size for tiny hands to carry her everywhere you want! She is weighted to feel like a newborn in your arms.
Package Includes

A suit (as pictured)
A magnetic pacifier
A nursing bottle
A certificate of birth
A zebra toy
❤ Exquisite Details: silicone baby doll has realistic brown wig hair. Closed eyes can not open. Possessing adorable face with hand painted eyebrow and handmade glued eyelashes
❤ Material: charex reborn baby doll comes with a weighty and cuddly cloth body, soft vinyl silicone head and 3/4 limbs. Weighted sleeping real life baby doll makes you feel corking to cuddle
❤ Size: reborn sleeping baby doll is 22 inches from head to toe and she fits into reborn doll baby(0-3months) clothes
❤ Application: The quality of this doll is absolutely perfect. Good choice for kids' birthday present, Christmas gift, also perfect choice for grandma's accompany and collector' s collection
❤ Package: 22 inch baby doll*1, Suit*1(just like picture), Diaper *1, Magnet pacifier *1, Bottle *1, Birth certificate*1
baby doll,#CHAREX #Sleeping #Reborn #Baby #Doll #Realistic #Baby #Dolls #Lifelike #Weighted #Reborn #Baby #Soft #Toy #Boys #Age