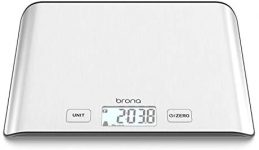 BRONA Digital Kitchen Food Scale 5KG / 11lb Multifunction for Cooking, Baking, Meal Prep, Keto Diet Weight Loss, 0.1oz / 1g Accuracy, Stainless Steel

Price:

$14.99




Product Description
Get Precise, Easy and Trusted Measurements.

Measuring ingredients is the key to best baking and cooking. Unlike the measuring with a cup which may vary if ingredients are in different conditions, thickness or humidity, a scale can ensure the consistency and accuracy every time.
MULTIFUNCTIONAL

Say goodbye to complicated converting jobs between metric and imperial units! You can also get the rough volume of milk or water with the volume modes.
Dieting Under Control

The best way to start a weight loss plan is to weigh and track your calorie-dense foods each meal.
A small digital food scale can help you on portion control on-the-go and keep you from eating more than you planned.
*Get the Nutrients Database here: fdc.nal.usda.gov
Accuracy for A Scale Matters
It goes through self-calibration each time when you turn on or zero/tare the scale, it is always reliable for weighing.
NOTE: The minimum recommended weight of objects is 10 grams.
Easy-to-Clean
The food-contact stainless steel surface is fingerprint-proof and easy to clean as needed–wiping it down with a wet cloth is usually all it takes.
Portable & Space-Saving
It offers a small, compact size that takes up minimal counter space, can be conveniently tucked away in a pantry or drawer, even carry around while traveling.
EASY-TO-USE

Step 1:
Press power/zero button to power on and press it again to zero the scale.
Step 2:
Place a container on the platform.
* Container is not included
Step 3:
Press zero button to subtract the weight of container (Tare).
* When container is less than 7oz/ 200g, the scale will use the zero fuction instead of tare function.
Step 4:
Add ingredients.
* You can add multiple ingredients continuously by zeroing step-by-step.
Specifications

Weight Capacity
Up to 11 pounds (5Kg)
Measure Units
lb: oz / fl'oz / g / ml
Increments
0.1 oz / 1 gram / 1 ml
Modes
Weighing mode / Volume mode (for water/milk only)
Display
46 x 22mm LCD with backlight
Auto-Off
30 sec backlight off / 120 sec power off
Battery
2 x AAA 1.5V batteries (included)
Dimensions
8.3 in x 6.3 in x 0.6 in (21x16x1.5 cm)
The scale features a small, sleek and low-profile modern design, which can be perfectly convenient for daily baking, meal prep and keto diet.
One-button easy cycles through grams, ounces and volume mode (for weighing water or milk).
Tare / Zero function allows you to subtract the weight of a container, or weigh multiple ingredients continuously.
Fast reading with 1g/0.1 oz increments for remarkable precision, minimum weight recommendation 10 grams +.
Backlit LCD provides a bright and clear display in dim light; 30s backlit auto-off and 120s auto-off provide longer battery life.
weight loss gadgets,#BRONA #Digital #Kitchen #Food #Scale #5KG #11lb #Multifunction #Cooking #Baking #Meal #Prep #Keto #Diet #Weight #Loss #01oz #Accuracy #Stainless #Steel